How to Buy a Domain Name
A domain name is how people will find your website online. That's why it must be memorable and easy to spell. It should also be related to your business.
As simple as it sounds, buying a good domain name can be tricky. The whole process can make your head hurt if you don't know where to start.
To make this process easier, we split it into four easy steps:
Make a short list of potential domain names.
Go to Hostinger's domain checker to see if any of them are available.
Choose a TLD.
Complete the purchase and enjoy your domain name.
Follow these steps to save yourself tons of time and energy.
Instead of doing more "domain names" research, you'll be able to focus on more important tasks, like building your website and growing your business.
How to Buy a Domain Name – Video Tutorial
Find out how to buy a domain name in five simple steps.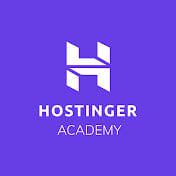 Subscribe For more educational videos!
Hostinger Academy
Subscribe
Choose a Domain Name
A good place to start is to brainstorm ideas for your new domain name. Make sure they're short and easy to remember. They must also be easily recognizable by your customers.
Look at the name of your brand. Can you use it as your domain name? If your brand name is too long, can it be abbreviated?
You can also make a list of words that are related to your industry. You don't need a huge list – a few ideas are enough to get you started.
Then, go to a domain name search tool and check the availability of the names. If the domain name is unavailable, the tool will suggest alternative options.
Keep checking until you find the name you like. Once you do, it's time to choose the correct TLD.
What Is a TLD?
In short, a TLD is an extension that comes after the domain name. The most popular option is .com. However, there are many more different domain extensions available for grabs.
Depending on the industry of your business, you can pick one of these "better known" TLDs:
Or go for something more unique, like:
.tech
.online
.xyz
.space
And if none of these TLDs are available, there are other options that Hostinger has on offer.
To learn more about different types of TLDs, read this detailed guide.
Why Choose Hostinger as Your Domain Provider
Hostinger is an ICAAN accredited domain registrar, so your domain name will be in good and trusted hands.
We provide premium domain names at some of the lowest prices on the market. But that's not the only reason why registering your domain name with us is a good idea:
Excellent customer support. You'll have all of your problems solved and questions answered quickly and efficiently, no matter the time or the day. Our customer support is ready to help 24/7 all around the year.
Domain Privacy Protection Service. Offered for free with your domain purchase. Hostinger won't provide your personal information to the WHOIS database. Meaning, all of your details will be safe from public access.
Money-back guarantee. You can get 100% of your money back risk-free if your request is registered within four days of the purchase.
Wide choice of TLDs. We have a wide variety of different TLDs available for purchase – just take your pick!
Low-cost domains. We offer a special deal of $0.99/year for a couple of handpicked TLDs.
Buy Hosting and Get Domain for Free
To make your website available online, you'll need web hosting for your domain. It would be convenient to get both of these services from the same provider. Especially if they offer a sort of "Buy One, Get One Free" deal, right?
Well, Hostinger includes a free domain name with most premium hosting plans. Ranging from Shared Web hosting to WordPress and Cloud, each hosting plan features everything you need to build and publish a website.
To save yourself time and money, decide which one of our hosting plans will best suit you. Then register your free domain name, and get back to what matters most – growing your business.
Domain Name Checker
Instantly check domain name availability.