Siteground vs Hostinger: Comparing the Plans, Features, Ease-of-Use, Security and Support
The web hosting industry is a very competitive market. Choosing the hosting provider that best fits your needs and budget become all the more challenging.
Fortunately, if you're conflicted between using Hostinger or SiteGround on your website, this guide is here to help.
We'll compare what SiteGround and Hostinger have to offer, including the types of web hosting services they provide, their performance, user experience, features, customer support, and security.
We will also provide a step-by-step guide on how to migrate your website from another web host to Hostinger.
Download Guide To Using Hostinger
Hostinger vs Siteground: Web Hosting Plans Compared
Every web hosting provider offers a unique selection of web hosting services. Before choosing a hosting company, ensure that you check if their hosting options fit your budget and needs.
This section compares Hostinger vs SiteGround when it comes to shared hosting, VPS hosting, cloud hosting, and WordPress hosting.
Shared Hosting
Multiple websites are hosted on a single server with shared hosting, which share such resources as bandwidth, webspace, databases, and memory. Therefore, it is best for low-traffic websites like personal blogs and small business sites.
Here at Hostinger, shared hosting plans cost as low as $1.99 to $4.99/month.
SiteGround, on the other hand, offers their plans at $3.99 to $10.79/month, less affordable than Hostinger.


To have a fair comparison, we will analyze Hostinger's Business Shared Hosting plan and SiteGround's StartUp package as they are closer in the price range to have a fair comparison.
Both plans offer daily backups, free domain, free SSL certificate, free CDN, and 24/7 customer support. However, SiteGround only provides 10 GB of storage space for one site, while Hostinger gives you 200 GB for up to 100 websites.
It's also worth noting that, at Hostinger, we use LiteSpeed caching, while SiteGround uses their proprietary service, SuperCacher.
VPS Hosting
Virtual private server (VPS) hosting combines the cost-saving benefits of shared hosting with an additional layer of security and dedicated RAM. VPS hosting is perfect for websites aiming to scale up but not large enough to use dedicated hosting services.
Hostinger offers eight VPS hosting plans.


Our highest-tier plan, VPS 8, which starts at $77.99/month, offers up to 16 GB of memory, 250 GB of SSD storage, and 12 TB of bandwidth. Besides having IPv6 support and full root access, all plans also support major operating systems like CentOS, Ubuntu, and Debian.
SiteGround, on the other hand, does not offer this type of hosting service.
Cloud Hosting
Cloud hosting utilizes resources from many different physical web servers in several data centers to reduce downtime. Therefore, it is best for medium to high-traffic websites looking for scalability.
Hostinger's cloud hosting plans offer up to 300 GB SSD space, eight CPU cores, and unlimited bandwidth. It also comes with daily backups, free domain registration, and free CDN.


On the other hand, the cloud hosting plans available on SiteGround come with collaboration tools, daily backups, and dedicated IPs. Its highest-tier plan offers access to 16 CPU cores, 160 GB SSD space, and 5 TB data transfer.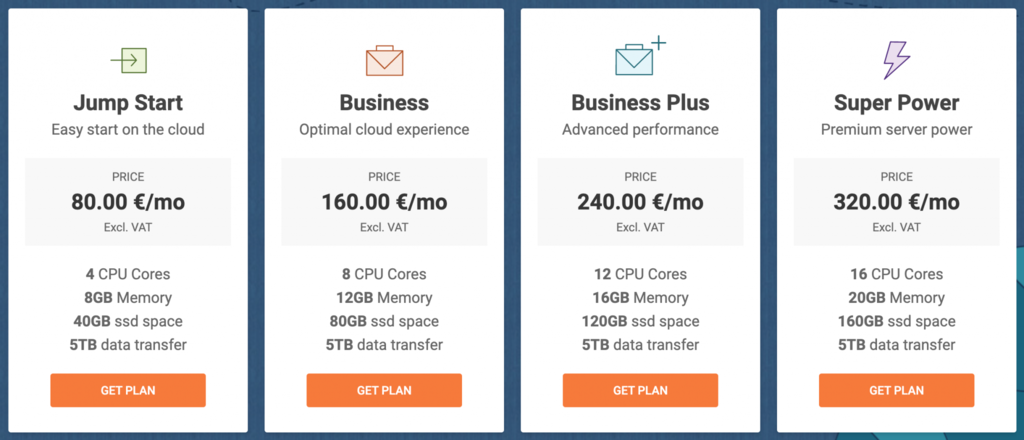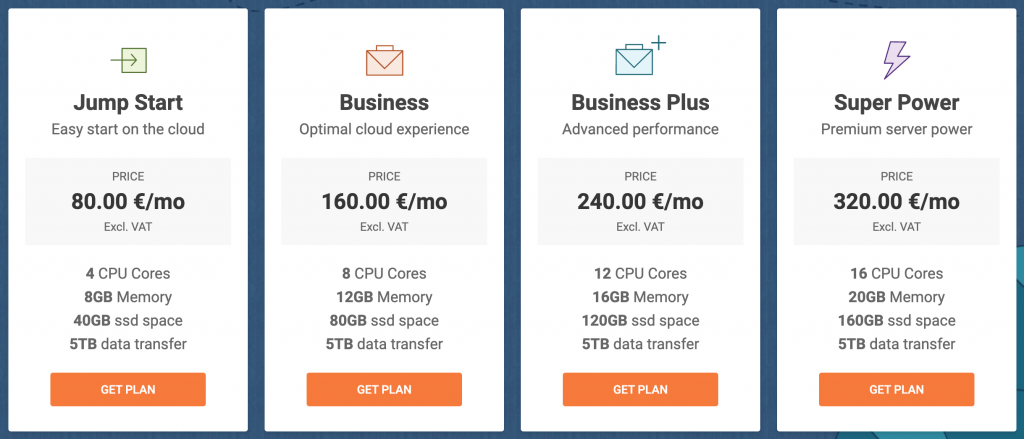 There's a significant price difference between Hostinger vs SiteGround. Hostinger's most popular cloud hosting – the Cloud Professional plan – costs $14.99/month, while SiteGround's Business Plus plan charges $240/month.
For far less money, Hostinger provides more CPU cores and a higher SSD storage capacity than SiteGround.
WordPress Hosting
WordPress hosting is a type of shared hosting that is specifically designed for WordPress. Generally, with WordPress hosting, expect better optimization and built-in site tools.
The prices of Hostinger's WordPress hosting plans range from $1.99 to $11.59/month.


Meanwhile, SiteGround's WordPress hosting plans are priced precisely the same as their shared hosting services – between $3.99 and $10.79/month.
Both plans offer caching, free SSL, and free email, as well as WordPress-specific features like automatic updates, WP-CLI, SSH access, and free migration.
However, Hostinger's WordPress Starter plan comes with 100 GB of SSD storage and can handle around 25,000 monthly visits, while SiteGround's StartUp – only around 10,000.
Hostinger vs SiteGround: Direct Comparison
In this section, we'll delve deeper into what sets these two hosting providers apart.
Hopefully, by the end of this article, you'll have a better understanding of what each service has to offer.
Performance, Ease of Use, and User Experience
When it comes to transparency, Hostinger has the upper hand. We make our server uptime report available publicly.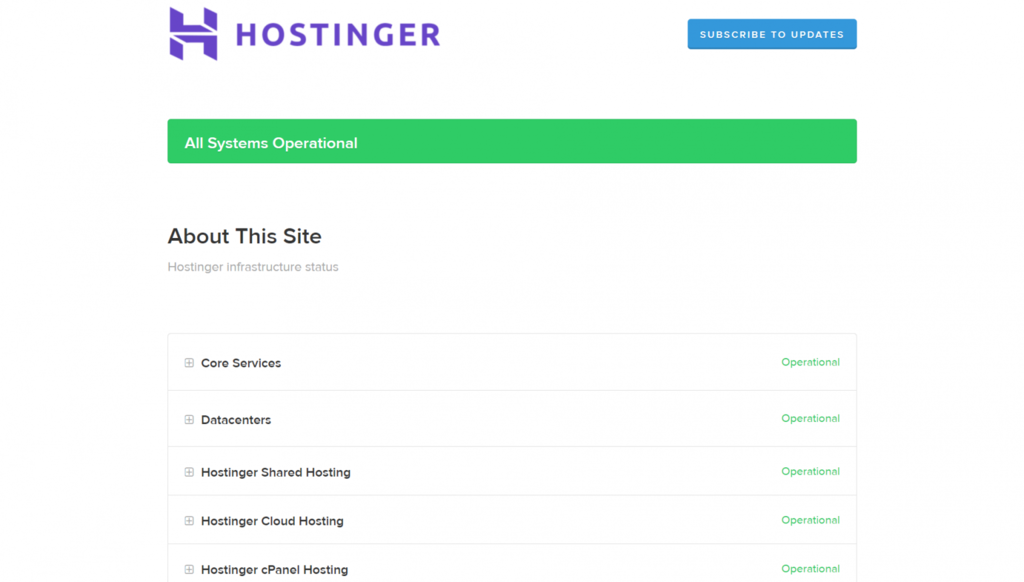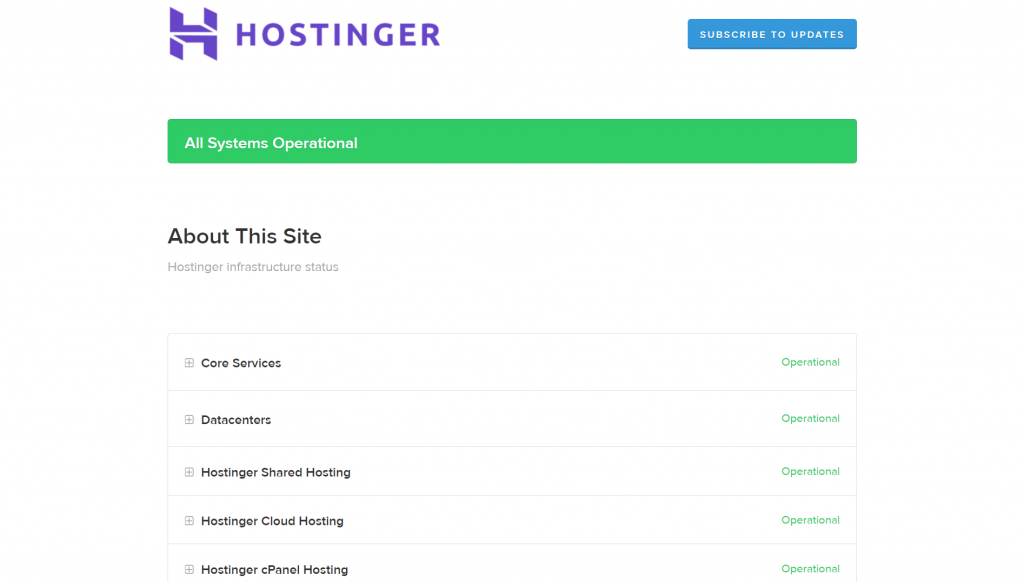 In comparison, SiteGround doesn't disclose this information. You have to rely on third-party sources to learn about their server's performance.
Both SiteGround and Hostinger offer 99.9% uptime and robust security measures to protect their servers. Not only that, but you also get a 30-day money-back guarantee when testing out both services.
They also do a great job when it comes to the location of their data centers, ensuring the utmost speed and reliability.
Hostinger has data centers in different locations in Europe, Asia, North and South America.
On the other hand, SiteGround has data centers in North America, Europe, Asia, and Australia.
In terms of ease of use, it is a close call between the two hosting companies. SiteGround provides the well-known Linux-based control panel, cPanel, while Hostinger uses its own, called hPanel. Both control panels have a similar interface, and users can quickly adapt to them.
Features
Both web hosting companies offer similar features. Both Hostinger and Siteground free SSL, free domain, automatic backups, 1-click app installer, free email account, FTP connections, SSH access, free CDN, and caching.
However, some features vary in availability and limitations depending on the hosting plan. For example, Hostinger's mid-level shared hosting plan, Premium Shared Hosting, offers weekly backups instead of daily backups like all SiteGround's shared hosting plans.
However, the Premium Shared Hosting plan offers 100 GB SSD storage space, while SiteGround's top-tier shared hosting plan, GoGeek, only provides 40 GB.
Also, keep in mind that the Premium Shared Hosting is priced at $2.99/month while GoGeek is $10.79/month – that's a massive difference.
Moreover, Hostinger's top-tier shared hosting plan, Business Shared Hosting, offers daily backups and 200 GB of SSD storage at only $4.99/month.
When it comes to features, by putting SiteGround vs Hostinger head-to-head, Hostinger is the clear winner. We offer more features and resources at lower prices in comparison to SiteGround.
Customer Support and Response Time
SiteGround provides multiple tech support channels to choose from. Their 24/7 customer support is reachable via live chat, phone, or ticketing system.
Users can also access self-help channels like the Help page and an AI-powered chatbot. Email support is also available for both new and existing users.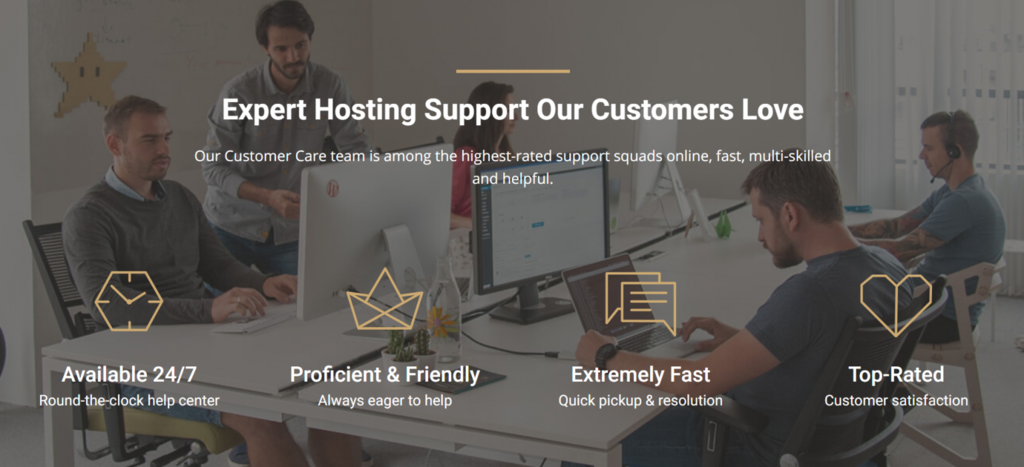 While Hostinger does not offer phone support, it does provide full 24/7 customer support, reachable via live chat and email.
Besides the fast response times, Hostinger's customer support team also provides multilingual assistance. Users around the world can reach out to our team without worrying about language barriers.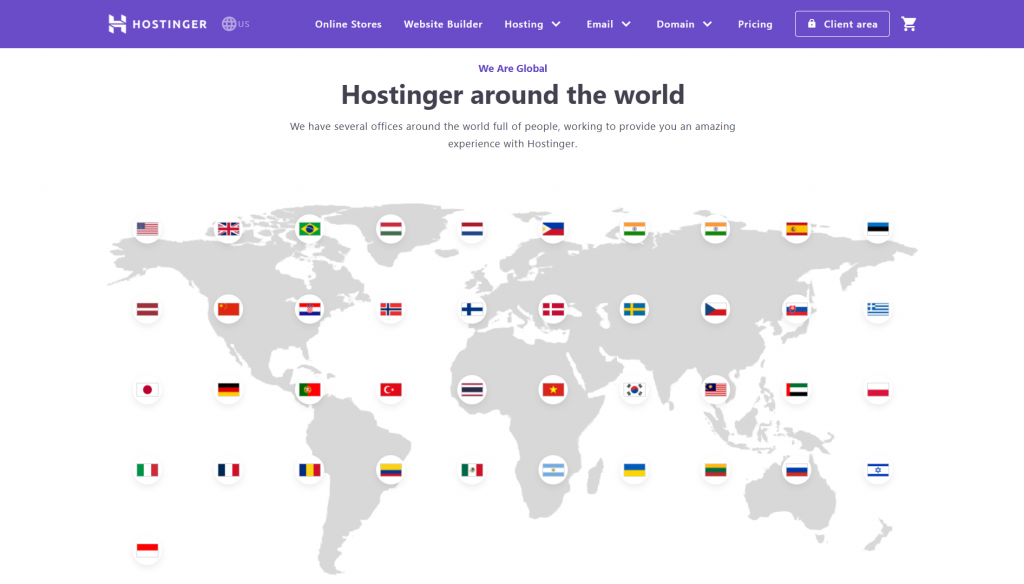 When it comes to customer support, there is no clear winner between SiteGround vs Hostinger. Both have high-quality customer support teams, each with its own strengths.
If you find phone support essential, you might prefer SiteGround. However, if multilingual support is your priority, Hostinger has the advantage.
Security
Hostinger protects its users from security breaches by using Wanguard anti-DDoS traffic analyzer, switch-level firewalls using Monarx or Imunify360, and optional Cloudflare.
On the other hand, SiteGround's security measures include real-time server health checks, firewalls, and AI technology that blocks brute-force attacks.
In conclusion, both SiteGround and Hostinger provide advanced security technology to protect users from potential threats.
How to Move Your Website to Hostinger
Migrating from another web host to Hostinger is not complicated. If your site is built on WordPress, feel free to send a request to our support team to migrate your website.
However, if you prefer the manual method, follow this step-by-step tutorial to backup and restore your website, as well as point your domain to Hostinger:
1. Create a Website Backup
To fully backup your site, you must back up both your databases and website files. Both are needed to make your website work following the data transfer.
Depending on your current provider, there may be a database export tool that can do the job efficiently. phpMyAdmin, for example, has an export feature that can generate a MySQL database backup file.
Many hosting providers, including SiteGround, allow users to access phpMyAdmin:
On cPanel, navigate to Databases -> phpMyAdmin.
Open the Export tab. Under Export method, choose Quick. On the Format drop-down menu, choose SQL.


Select Go to download the SQL file into your computer.
To back up your website files, use the File Manager on your control panel or an FTP client like FileZilla. In this example, we'll use the File Manager on cPanel:
On cPanel, go to Files -> File Manager.


Access your website directory and download all the necessary website files from your former web host to your desktop computer. If you want to migrate a WordPress site, make sure to download the essential WordPress website files. This includes the wp-config.php file, which contains your last settings, and the entirety of the wp-content directory, which contains your plugins, themes, and media library files.


Alternatively, WordPress migration plugins like All-in-One WP Migration automate the transfer of your databases and files.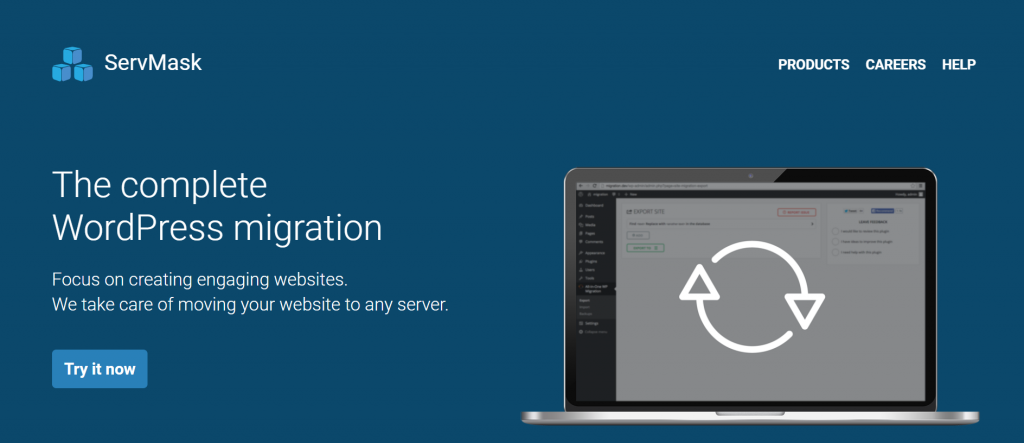 Simply skip the next step if you choose to use a plugin.
2. Import the Website to Hostinger
Before importing the backup database to Hostinger, create a new database first:
On hPanel, go to Databases -> MySQL Databases.


Under Create a New MySQL Database And Database User, fill in the database name, username, and password. Click Create.


Next, restore your database backup file on phpMyAdmin using its import tool:
On hPanel, go to Databases -> phpMyAdmin.


Find your new database and select Enter phpMyAdmin.
Navigate to the Import tab and select Upload File to restore the SQL file that was previously downloaded.


Scroll down and select Go to begin the import process. It may take a couple of minutes, depending on the size of your database.
Finally, restore your website files by uploading them via File Manager on hPanel or using an FTP client. In this example, we'll use the File Manager on hPanel and a WordPress-based site:
On hPanel, go to Files -> File Manager.

Upload the backup website files from your computer to the appropriate directories. Simply drag and drop your files or select the Upload button from the menu.


3. Point the Domain to Hostinger
To point your domain name to Hostinger, you need to change your nameservers. To find Hostinger's nameservers, open hPanel and navigate to Accounts -> Details.
Hostinger's nameservers are as follows:
ns1.dns-parking.com
ns2.dns-parking.com
Log into your registrar's control panel and access the DNS Zone Editor. Once you're there, replace the existing values with Hostinger's nameservers. The changes made can take up to 24 hours to propagate globally.
4. Optional: Transfer the Domain Over to Hostinger
While it is not mandatory, transferring your domain over to Hostinger can simplify your website and hosting management. Once you transfer the domain name, you will be able to manage it from Hostinger side along with other domains purchased with us.
Hostinger provides domain transfer services that streamline the process into four easy steps. Depending on the domain extension, it may take up to five days for the transfer to complete.
Most domain names get renewed for one year upon purchasing a domain transfer. To make sure whether your domain qualifies for the transfer, feel free to contact our support team.
Conclusion
In this guide, we've made a comparison of Hostinger and SiteGround on several categories, including performance, ease of use, features, customer support, and security options.
We found that the features and technologies offered by Hostinger and SiteGround are on par with each other. However, when it comes to value for money, Hostinger comes out on top.
You can get a hosting plan from Hostinger that's richer in features and resources for less money.
We hope that this article has helped you make a decision when it comes to SiteGround vs Hostinger. Good luck!
Was this tutorial helpful?