13 Amazing Digital Black Friday 2021 Deals and Discount Codes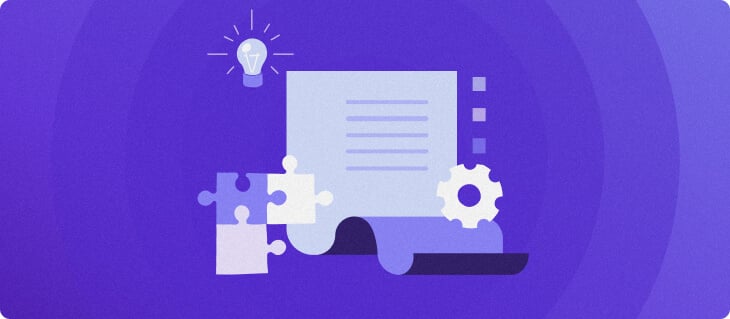 Black Friday and Cyber Monday are just around the corner and this year, like every year, we see lots of great deals in the digital space.
Here are our recommendations based on the reviews of product experts, the shopping needs of the customers, and the price cuts that offer the best deals. Without further ado – here are the best Black Friday deals of 2020.
1. Hostinger – Up To 90% Off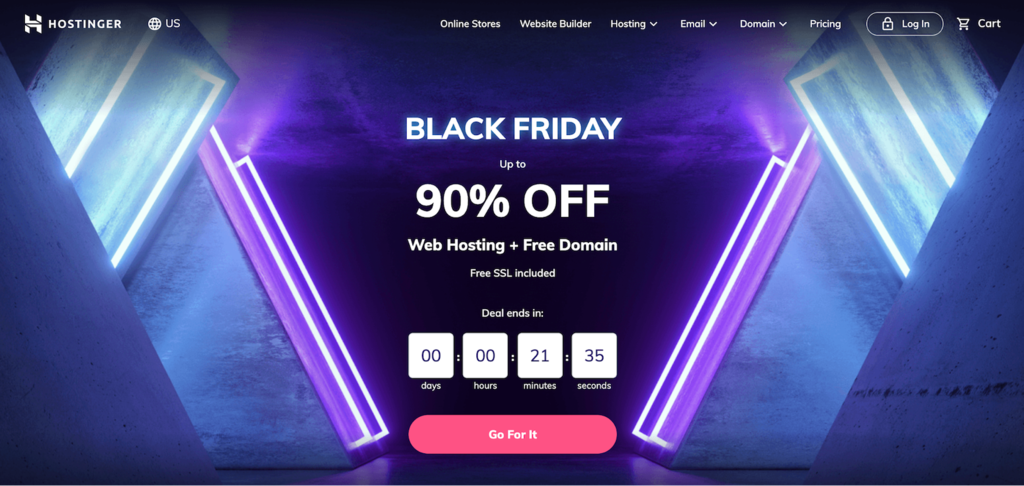 Like every year, we're offering Black Friday discounts on our products.
Get a discount of up to 90% off this Black Friday. The deal is for the Shared hosting plans that come with a free domain and a free SSL certificate.
You'll get excellent customer support service and a 99.99% uptime guarantee. We also provide domains, a custom-made control panel, SSL certificates, other services to get your website up and running in no time.
There's no discount code needed – simply go to Hostinger's website and the offer will be automatically included in your purchase. It'll come with a 30-day money-back guarantee.
The Black Friday offer is valid from November 23rd to November 29th.
The Cyber Monday offer is valid from November 30th to December 6th.
Zyro is a website builder that comes with a range of powerful AI tools. It's a platform that requires little-to-no coding knowledge to help you build a professional website or online store in minutes.
Zyro offers a wide range of themes that can be customized with the intuitive drag-and-drop builder. You also get free hosting and a 30-day money-back guarantee with every plan.
This Black Friday, Zyro offers up to 85% off their plans. The deal lasts until Cyber Monday (November 30th)  and can be accessed through their website, no codes needed.
3. TemplateMonster – Up To 70% Off + Unlimited Downloads For a Year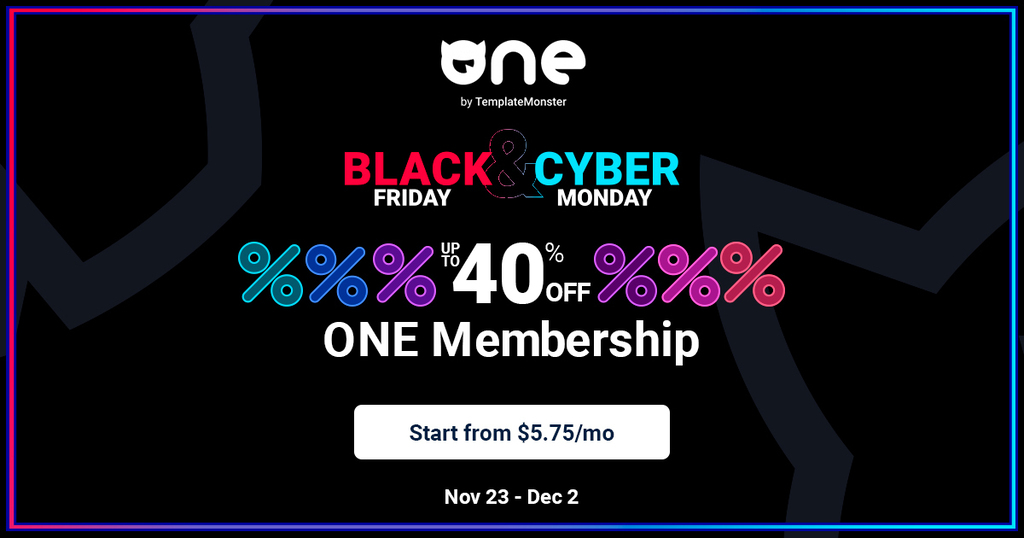 TemplateMonster is a marketplace platform that provides thousands of web design tools, services, and products.
This website offers a large collection of WordPress themes, website templates, a variety of plugins as well as graphic and media templates – everything you may need for building a website.
All of these products come with a discount of up to 70% off this holiday season, including up to 70% discount on any template and discounts on services for creating and promoting business projects. What's more, TemplateMonster's One memberships come with a sale of up to 40% on any tariff and unlimited downloads for a year.
TemplateMonster's Black Friday deals are valid from November 20th to December 2nd.
WP Manage Ninja is a team of developers that designed a number of widely-used WordPress themes and plugins, such as Ninja Tables, Fluent Forms, and WP Pay Forms.
This year WP Manage Ninja offers a discount on all of their products that can help you save up to 40%. The deal lasts until November 30th and comes with a 14-day money-back guarantee.
The coupon codes:
BFCM2020 – For Annual Licenses
BFCM-LTD2020 – For Lifetime Licenses
These codes will be applied at checkout automatically.
5. Adobe – Save 25% on All Apps + 40% on Photoshop Elements
Adobe is a software company that provides tools for various digital content creation and manipulation. The Creative Cloud suite includes subscriptions to a number of different plans, which include applications like Photoshop, Illustrator, Dreamweaver, and Acrobat.
Adobe's Black Friday special is a 25% discount on all applications and a 40% discount on Photoshop Elements 2021.
The deals will last until November 27th.
Elegant Marketplace provides over 1200 different themes, layouts, and plugins for building WordPress websites. They also offer services for building mobile apps, web development, and web hosting.
Use the coupon code CYBER during the checkout process and get 30% off anything that you can add to your cart.
The deal lasts until November 27th.
7. Elementor – Up To 25% Off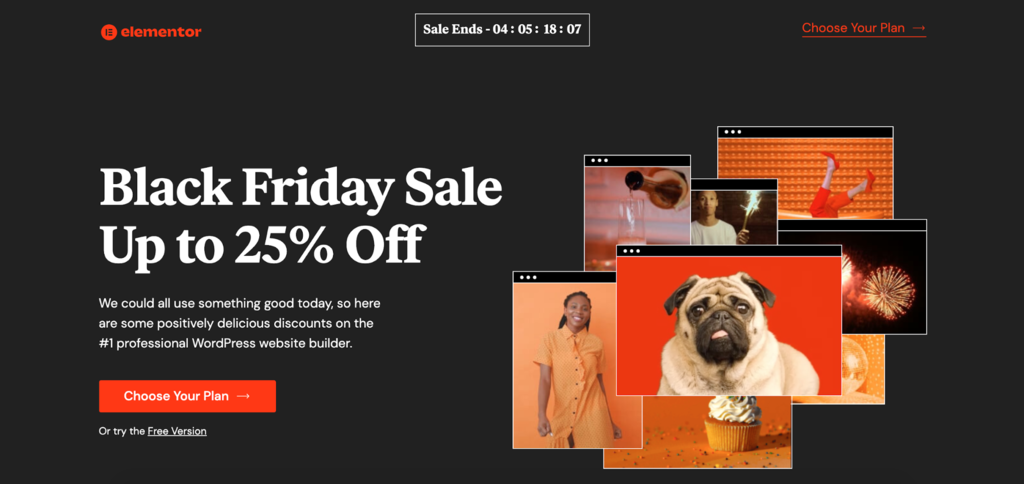 Elementor is a WordPress website builder that's great for eCommerce stores, business websites, and blogs alike. Its intuitive drag-and-drop builder ensures there's no need for coding knowledge, which makes it an excellent choice for beginners.
Elementor offers a collection of over 300 designer-made themes for you to choose from. They come with built-in Form & Popup builders, and over 90 widgets that you can implement into your site's design.
This Black Friday, Elementor offers a 25% discount on the Expert plan and a 10% discount on the Plus plan. The discounts are applied automatically during checkout.
The offer lasts until November 28th.
8. WP Rocket – 30% Off All Plans
WP Rocket is a WordPress plugin that increases the loading speed of your website. It works by caching and preloading pages, minifying static files, and loading images only as the user scrolls through them.
WP Rocket offers 30% off all their subscription plans this Black Friday. The deal is automatically applied during checkout and comes with a standard 14-day money-back guarantee.
This Black Friday deal ends on December 3rd.
9. MotoCMS – Up To 40% Off
MotoCMS is a website building platform that requires no coding knowledge. The simple drag-and-drop website builder allows visual editing to create responsive and mobile-friendly websites.
MotoCMS also comes with an advanced eCommerce plugin in case you want to build an online store. This plugin includes product catalogs with filtering options, a selection of payment gateways, and preset tax and shipping settings.
This holiday season, MotoCMS offers a discount of up to 40% on all of their templates, plans, and services.
The deal is valid from November 18th to November 30th.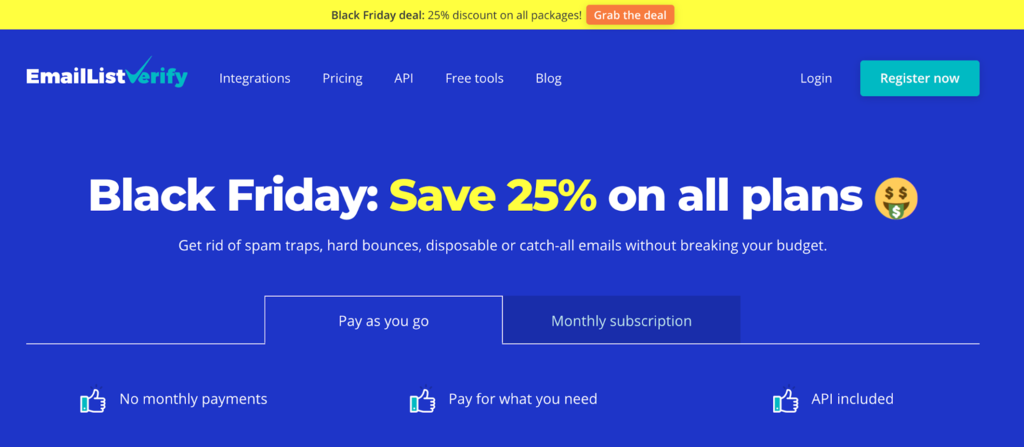 EmailListVerify is an email-checking system that ensures your mailing list is free of spam traps, fake email addresses, and other details that only take up space. You simply upload the whole list into the software in the format of CSV, TXT, or XLS, press one button, and get a clean list of active emails.
This Black Friday, EmailListVerify gives a 25% discount on all of their plans, pay-as-you-go and monthly subscriptions included. No code is needed as the discount is applied automatically.
11. WPMU DEV – 60% Off Forever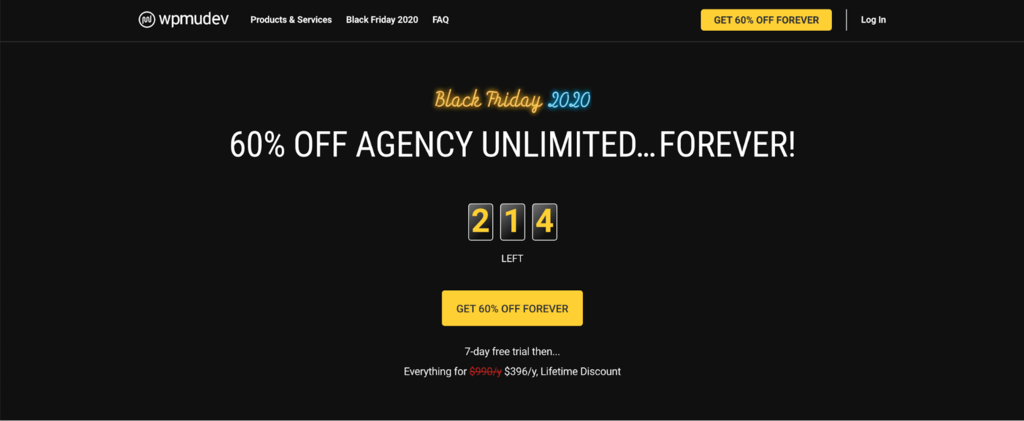 WPMU DEV is a great website management software that can accommodate an unlimited number of sites. Its management system – the Hub – provides one-click sign-ins to all your websites, the option for automated backups, monitored performances, as well as client reports.
WPMU DEV also comes with 11 Pro Plugins that take care of analytics, security, backups, and other important improvements for a website. What's more, WPMU DEV provides WordPress hosting, so all of your needs for running websites can be met in one place.
The Black Friday discount WPMU DEV comes with is 60% off their Agency subscription plan for life. No promo code is needed as the discount is applied automatically upon checkout.
This deal is scheduled to end on November 27.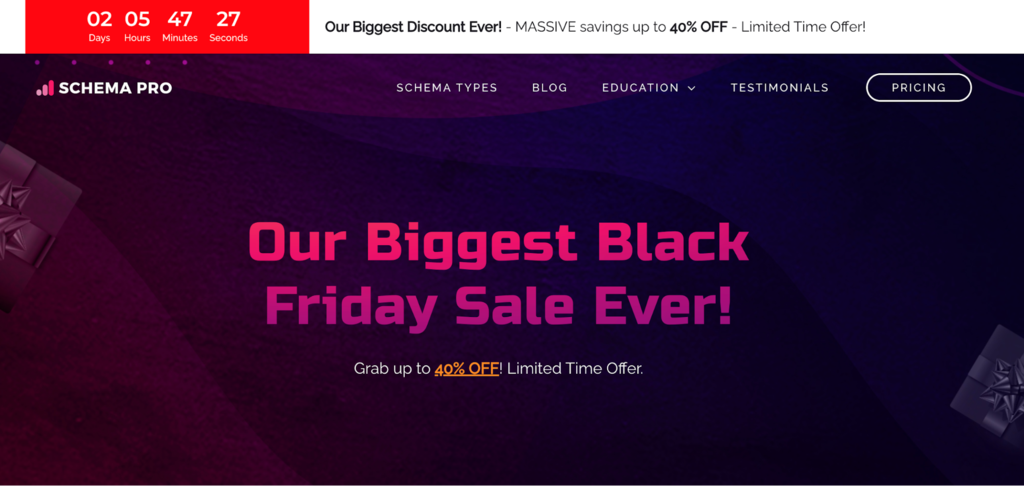 Schema Pro is a WordPress plugin that automatically generates schema mark up – a piece of code that communicates with search engines about the context of your site.
This structured data encourages search engines to provide your website with "rich results". Meaning, showing additional attributes (such as star ratings or recipe cook times) when your site is displayed on search engine result pages (SERPs).
This Black Friday you can get Schema Pro bundles up to 40% cheaper. No promo code required as the discount is applied automatically.
Schema Pro's Black Friday deal ends on December 1st.
13. Replug – 70% Off All Plans
Replug is a link management and optimization tool that can be used to create short and branded URLs.
Each link tracks and compiles detailed analytics so that you can see how many times it was clicked, what's the conversion rate, what are the referral sources, and what locations and devices the visitors came from.
As a Black Friday sales deal, the Replug team provides a 70% discount on all of their subscriptions which are applied automatically upon purchase. Each purchase also comes with a 30-day money-back guarantee.
Replug's Black Friday deal ends on December 1st.
Grab The Best Black Friday Deals
As you see, there are many great deals in the digital category this Black Friday. The selection has you covered in all aspects of running an active and successful website for your business.
Ranging from building and optimizing your website to managing your marketing campaigns, these Black Friday deals are sure to meet all of your shopping needs.