In this tutorial, you will learn how to create an Add-On domain in cPanel. It can be easily accomplished using cPanel's implemented AddOn Domains feature. It is important to learn how to do that in case you have more than one domain and you wish to manage them all using one cPanel account.
What you'll need
Before you begin this guide you'll need the following:
Access to your hosting account's cPanel.
Step 1 — Finding the "Addon Domains" feature
Start off by logging into your cPanel and follow these simple steps:
Find the search bar at the top of the screen of your cPanel, like it is presented in the following screenshot:

Enter keyword "Addon" into the search bar and click on the Addon Domains link which appeared under the Domains section:
Step 2 — Using the "Addon Domains" feature
After clicking on the Addon Domains button, you will be taken to the main Addon Domains window. Take a good look at the following picture, every setting and what you need to add there is explained below it (number on the picture represents number in the explanation):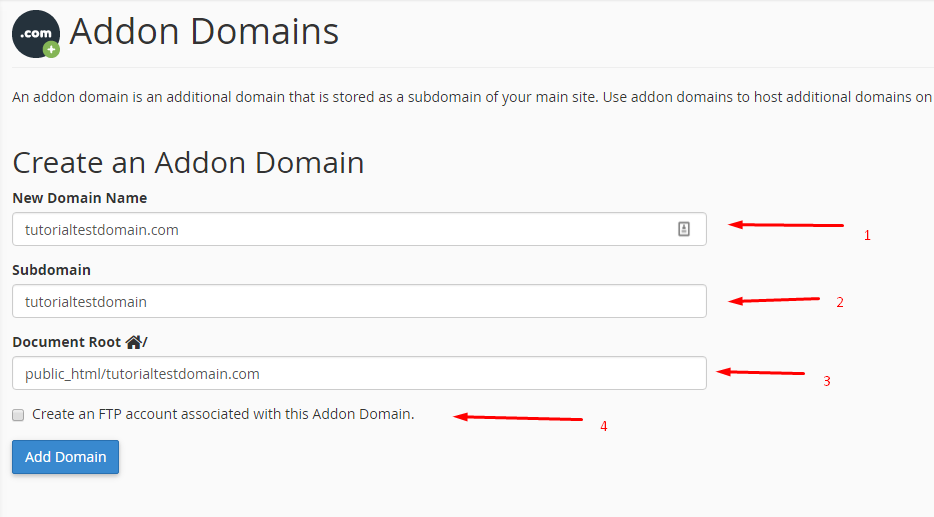 In the first field, you simply need to enter the name of the Add-On domain that you wish to add. In our case, I have entered tutorialtestdomain.com.
IMPORTANT! In the second field, cPanel automatically adds a Subdomain. If you are only planning on adding one Add-On domain with this name, for example: tutorialtestdomain.com, then you can leave it as it is, but if you have more than one domain with the same name, but different domain extension, for example tutorialtestdomain.com and tutorialtestdomain.net, it is advisable that you modify this Subdomain field a bit as there can not be two Subdomains with the same name.
This third field will fill in automatically as well. This is basically a path to our Add-On domain's files. In our case, it looks like this: public_html/tutorialtestdomain.com. This means that our Add-On domain files will be stored in the main public_html folder -> tutorialtestdomain.com sub-folder. You can change this path if you want, but we recommend that you leave it as it is for simplicity reasons.
This fourth sub-step is optional. It creates an additional FTP account for that specific Add-On domain. If you are planning on managing all of your domains by yourself, you can leave this checkbox unmarked as it is more convenient to manage all of your domains with one FTP account. But, for example, if you wish to set up this Add-On domain for your friend or client, you may want to mark this checkbox in order to create a separate FTP account. With this separate FTP account, he will ONLY be able to access the files of that specific Add-On domain. In this tutorial, we will leave it unmarked and all the following steps will continue based on this choice, but in case you want to use this feature, here is an additional sub-step explaining its features (click HERE to skip this OPTIONAL step):

OPTIONAL If you have chosen to use the Create an FTP account associated with this Addon Domain option, additional fields will open up:
Here you may enter the chosen FTP username and password. For the password, you can use the Password Generator feature which is seen on the right. After clicking on it, a new window will pop up: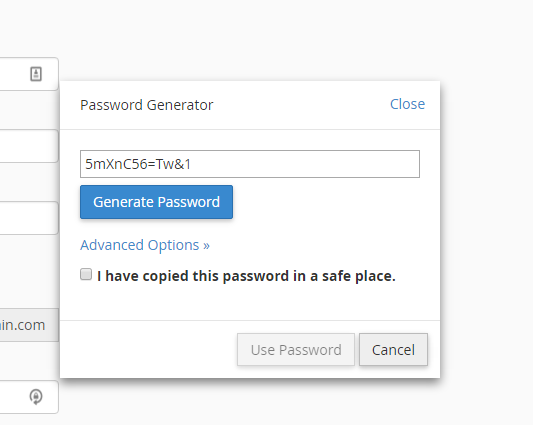 Here you may generate a safe password for your Addon Domain's FTP account. You may use the Advanced Options as well for additional options.
After choosing the password, copy it and save it in a safe place. After doing so, mark the I have copied this password in a safe place checkbox and click on Use Password button: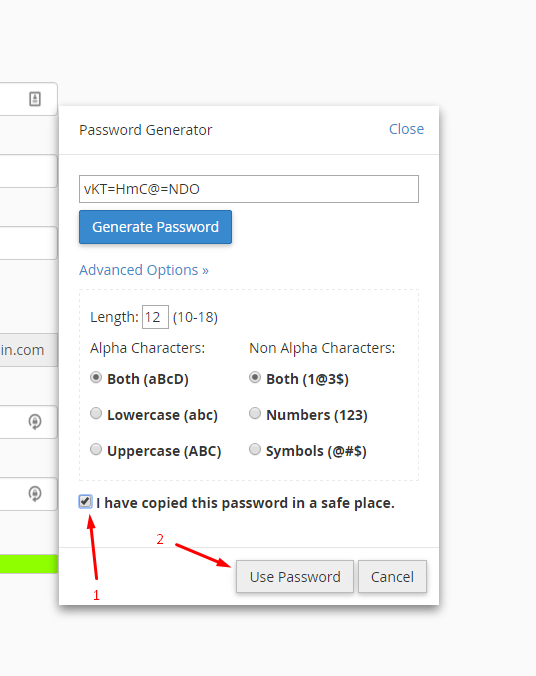 This will automatically enter the newly generated password into the FTP password fields.
Step 3 — Managing Add-On domains
Finally, when you have entered all the required information, click on the Add Domain button. You may need to wait a couple of minutes while all the necessary folders are being created and other settings are being set up. After it is done, you should see this window:

Congratulations! You have successfully created an Add-On domain! You can now upload your website files to the newly created sub-folder (in our case public_html/tutorialtestdomain.com).
Now that you have successfully created an Add-On domain, you should see it in the Modify Addon Domain sub-section, Addon Domains section:

Here we see a few options that we can choose from:
Addon Domains – All Add-On domains that we have added can be seen here.
Document Root – Path to the specific Add-On domain. If you click on this path, it will take you directly to cPanel's File Manager.
Subdomain – The automatic subdomain that we have created for this Add-On domain.
Redirects to – Here we can see if this Add-On domain is redirecting somewhere. Since we did not add any redirects, it shows as not redirected. You can manage the redirect of this Add-On domain by clicking Manage Redirection on the right. After doing so, you will be taken to a new window which allows you to set a very simple redirect destination for this specific Add-On domain:

For more advanced redirects, please read our tutorial on How To Add a Redirect for Your Website using cPanel.

Actions – Here we have one option – Remove. It does exactly what it says, removes this Add-On domain.
Conclusion
In this tutorial, you have learned how to create an Add-On domain using cPanel's Addon Domains feature. From here you can start uploading your website to the new Add-On domain's subfolder. IMPORTANT For your Add-On domain to work properly, the domain name itself must point to the main nameservers of this hosting account (the same nameservers where your main, non-Addon domain points). Correct nameservers or IP address for an A record can be obtained from your hosting provider. Good luck!