Your bandwidth usage is the sum of all incoming and outgoing traffic on your hosting account. Bandwidth usage includes visitors accessing your site, incoming/outgoing emails and FTP uploads.
cPanel will automatically send bandwidth warnings to your e-mail address at 80%, 90%, 98% and 100% bandwidth usage. You can update your contact e-mail address in cPanel under Preferences section.
What you'll need
Before you begin this guide you'll need the following:
Step 1 — Checking a short summary of Bandwidth Usage
Login to your cPanel and on the right hand side, you will see a short summary of your Bandwidth Usage.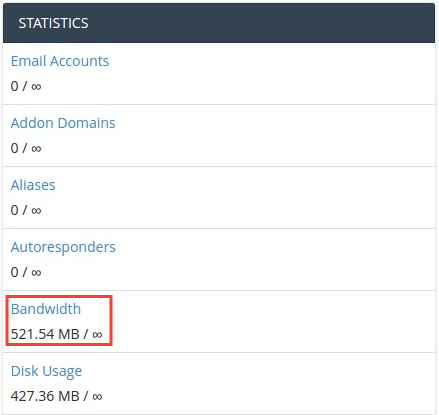 Step 2 — Checking Bandwidth Usage statistics
Full details of your Bandwidth Usage can be found by clicking on Bandwidth button under Metrics section of your cPanel.

This function allows you to see the bandwidth usage for your site. It shows the current month's bandwidth usage, as well as your total bandwidth usage. This will include all HTTP (web) and POP (mail) bandwidth usage, and may include FTP bandwidth usage if your system administrator has enabled FTP bandwidth logging.

Conclusion
Congratulations, you have learned how to check your Bandwidth Usage in cPanel. It can be useful when you need to know what is causing you to reach the bandwidth quota limit.