If you want to build a long-term bond with your customers and increase brand awareness, you can use content marketing. It is a great strategy to get more leads with fewer costs. But, you have to know how to do it right.
In this article, you will learn about content marketing and how to start a successful campaign.
What is Content Marketing?
Marketing is the act of promoting your brand and products, using different strategies such as market research and advertisement.
Content marketing is a strategy that uses creative materials, such as social media posts, videos, blogs, to reach a wider audience. In short, content marketing is about getting closer to your audience by providing relevant and valuable content to solve their problems.
Unlike ads, content marketing doesn't directly advertise a product or a service. The aim of content marketing is to build a relationship with the audience and indirectly convert them to paying customers.
Why Should You Do Content Marketing?
If you can spend less money to get more results, then it is worth doing.
While you might not reach 2500% growth like what Airbnb did with their Experiences content campaign, with content marketing you can build a better connection with your audience which will result in higher conversion rates.
So, what does make content marketing worth your time?
Impactful
More than 90% of business in the world produce content to engage with more people. This is because content marketing strategies are impactful.
For example, Marriott applied a great content marketing strategy with Marriott Traveller and attracted 3 million visitors in 2018. That was 78% higher than last year's traffic. Plus, the visits had triggered more revenue from hotel bookings — up to 200% — compared to last year.
So, creating informative content consistently can help you engage with more people, build your brand, and get a profitable impact.
Cost-Effective
Whether you are a small business or big company, content marketing offers cost-effective ways to promote your products.
First, you can re-share your content on various platforms, thus reaching a wider audience.
For example, FlipKey has an amazing blog about traveling ― writing about everything from travel tips to "best of" lists. Once the content posted on their blog, Flipkey shares the posts on social media sites like Facebook and Twitter.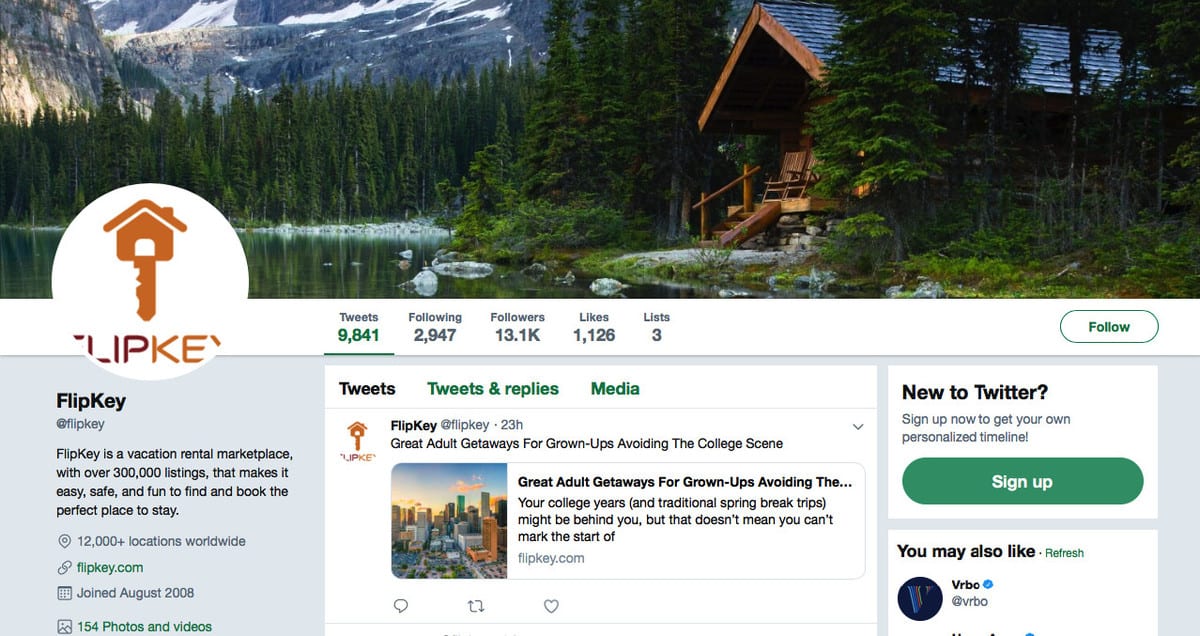 In addition, the more great content you create, the better chance you get visitors from organic search.
Organic traffic is what website owners aim for. This unpaid traffic comes from search engines because the content is considered as relevant and informative.
Simply put, people look for information online using search engines. To land high on SERPs (Search Engine Result Pages) you need to provide SEO optimized, relevant information.
In fact, 92% of the average traffic comes from Google's first result page. That being said, having a great, relevant content placed high on SERPs is vital. This will draw in more people without additional costs.
Long-Term
If you want to engage with your customers, try to help them to solve the problems they face ― depending on your area of expertise.
As content marketing tries to educate people with applicable information, the bond with customers using this approach is perpetual.
To do that, content marketing uses the strategy of buying cycles: brand awareness, consideration, and decision stage.
The first stage of buying cycles deals with the effort to build an online presence. The second stage is about teaching people how to choose the best products. The final stage is when people decide to buy the products or not.
While all of the steps are important, content marketing takes part in the first two stages intensively.
That being said, content marketing is a long term strategy. You can't expect a noticeable increase in sales as soon as you start. It's an investment in the long run.
Types of Content Marketing
Knowing how strategic content marketing is, let's dive deep into the types of content marketing.
Blogs
Whether you are an individual or a business, content marketing is a great method for you. But, a business will get more benefits by practicing the right content marketing strategy.
If you produce great content, you will show your expertise in the industry, thus building trust with your audience.
In fact, blogs are very popular with more than 31 million bloggers by 2020 in the United States alone. So you can see how much potential blogs have.
However, it's important to understand the competition of this type of marketing is fierce. It's crucial to know how to attract visitors if you want to have a big enough audience.
One of the business blogs that uses a great content marketing strategy is Grammarly.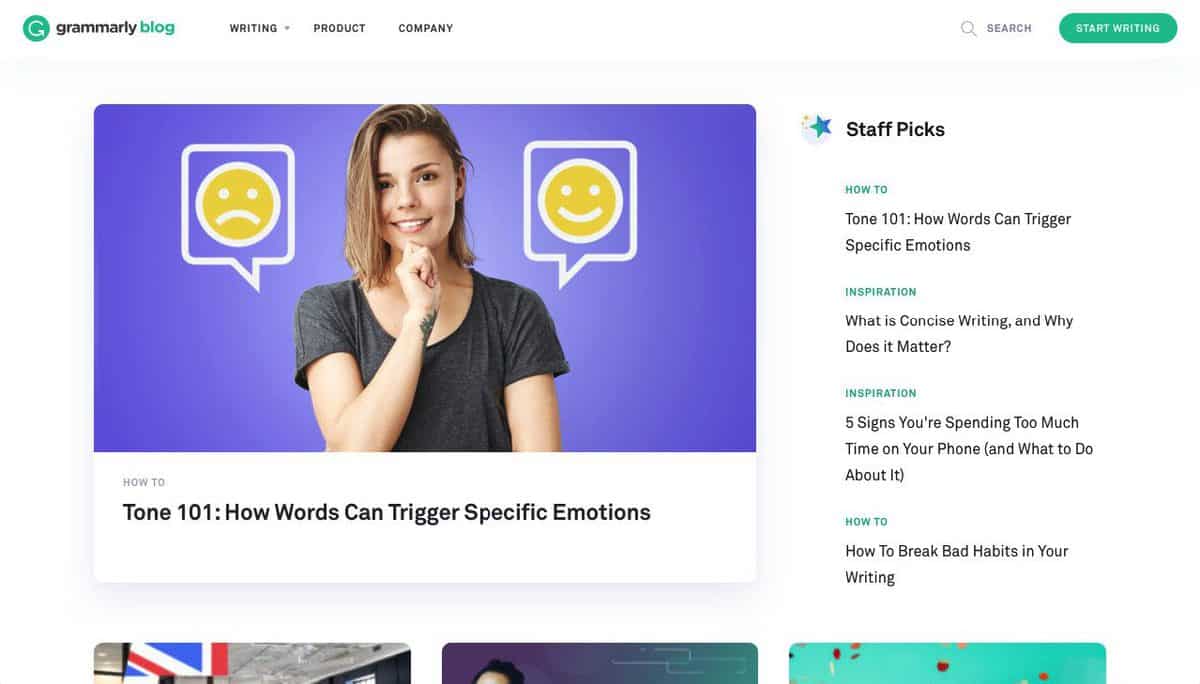 In line with the company's products, Grammarly tries to engage with their prospects by providing useful articles like grammar tips, how-tos, and writing trends.
This is crucial to affirm that Grammarly is the expert of better writing.
Newsletters
Newsletters are one of the most promising types of content marketing.
When someone subscribes to your newsletters, the door is open. While you may use this opportunity to turn subscribers into customers, a newsletter is one of the best ways to build a stronger connection with your audience.
The key is delivering the best content you can create.
What is the best content for newsletters? It is anything that your audience would love ― engaging and valuable information.
Also, newsletters should be personalized to make that bond even stronger.
One of the best newsletters for a content marketing strategy is from BarkBox. Promising to make your dogs happy, BarkBox uses thematic images about the dogs' life.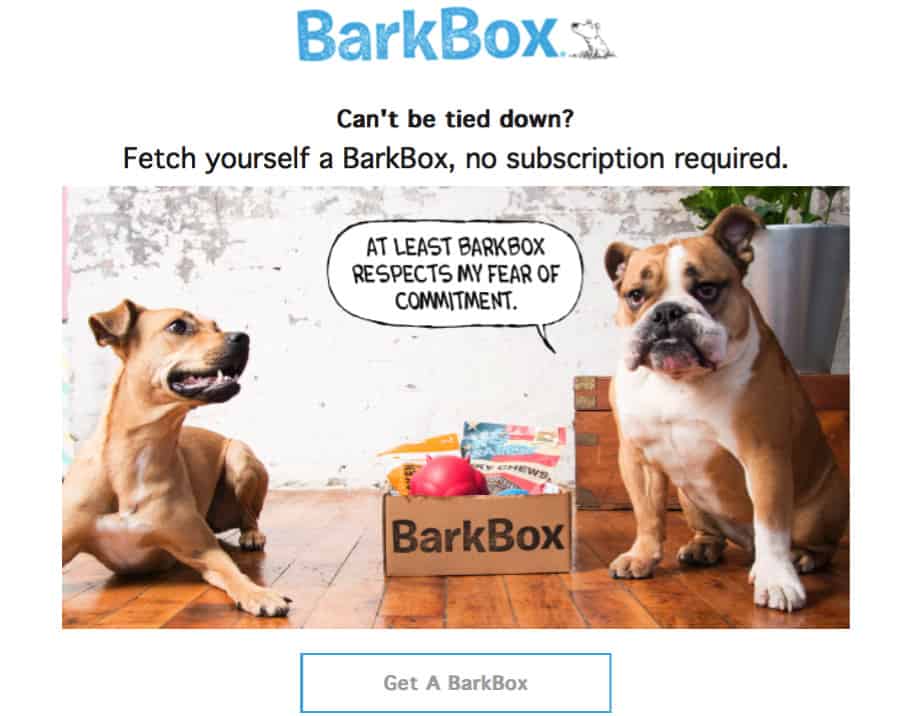 Social Media
Social media is the type of content marketing with the highest level of user engagement.
Other than googling for blogs or subscribing to newsletters, people just need to tap a 'follow' button to get updates about a certain product. As simple as that.
Go Pro does well with its aggressive social media marketing campaign. They push it out in every social media channel such as Facebook, Twitter, and Instagram.
They even encourage people to keep on sharing amazing moments of their own.
With this strategy, GoPro earned a huge revenue — up to $377 Million in Q4 2018.
Infographics
Infographics are a creative way to present information using a beautiful design.
As people understand visual information better, the use of infographic for engagement is very effective. Besides, infographics are suitable for many kinds of publishing: either digital or printed, blog posts or social media updates.
However, keep in mind that this type of content marketing is tricky. Make sure you create visually appealing posts.
If you can't, you can hire a freelancer to do that, There are sites like Fiverr that can save your day.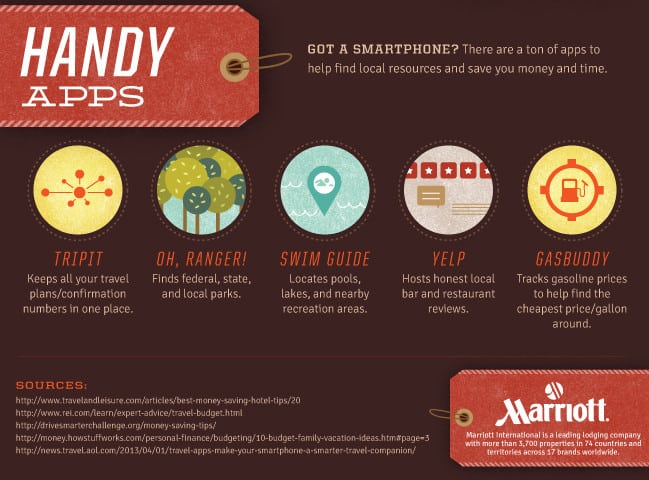 Or, if you have a bigger budget, you can use third party sites like Lemon.ly for the best results.
White Papers
White papers are official documents released by the company to highlight the features of the products.
This type of content marketing presents factual evidence based on research or tests. This way, the marketers try to influence their audience to buy the products without using fancy ads.
One of the best examples of white papers is Microsoft Azure Stack.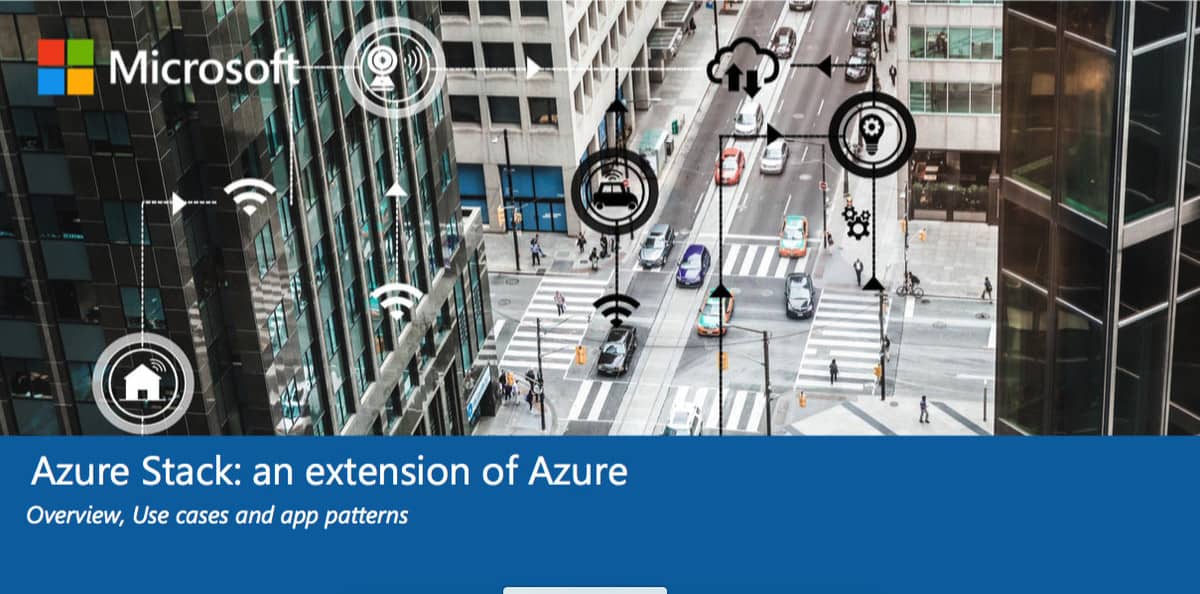 The white paper showcases Azure Stack's best features. Reading the white paper will help people understand how Azure Stack works in real implementation for different industries.
How to Start?
Content marketing is a strategy that involves a team of people working together to reach the same goal — increasing sales.
Because content marketing is a long term strategy, the whole process should be executed well. There are three points that should always be connected:
Action plan. The action plan will always focus on customers so knowing your audience is important.
Implementation. The implementation should target the right prospects using the right type of content marketing.
Reviews. Reviews are the way we analyze data to repeat the success efforts and revise the fail ones
Know Your Audience
Why knowing your audience comes first?
If you can determine who your target audience is, you will know what you need to do with your content marketing campaign.
To do that, you have to start with knowing your buyer persona.
A buyer persona is your ideal customer profile. This profile depicts who they are and what problems they need solving. With this information, you can produce content that aligns with your target audience.
For example, if you are a game company, you need to research who are the gamers, how long they play games, and where they play it and how much revenue you can expect from.
Find Your Niche
The next important thing is to create content for the targeted groups.
When creating content, it should always start with your audience in mind. Not only what type of content you are using, but also how you deliver it.
Keep in mind, a different audience needs a different type of content marketing.
For example, if you want to give thorough research-based information, you can use white papers, like what Apple did.
Or, for mobile gamers, attract them to visit your blog that links to all of your social media channels, like what Clash Royale did.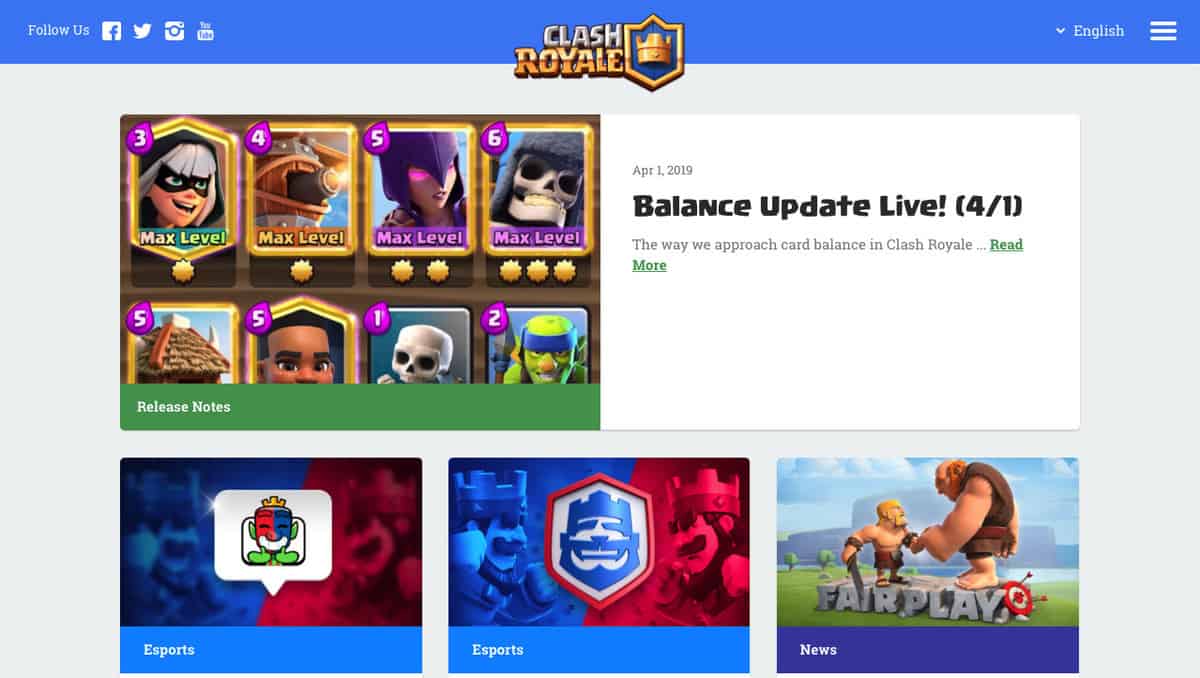 In addition, the stage of buying cycles determines your type of content marketing to use.
So, you should not send a newsletter to random people just because you know their emails. People will mark it as spam.
Instead, you can use blogs and social media to attract your intended audience. From there, you can build an email list, use newsletters and white papers.
Analyze
After targeting your audience with the right content, you need to measure the effectiveness of the strategy.
Analyzing the content marketing strategy is important to improve what you have done to get better results.
To do that, you need metrics. Depending on the stages of the buying cycles, each stage has its own metric.
In the brand awareness stage, you will most likely use blogs and social media. To measure this stage you can use:
Visitors ― how many people come to your blogs
Bounce rate ― how often people come and then go out of your blog instantly
Votes ― how many votes for your social media posts
Likes and comments ― how many likes and comments for your posts
Share links ― how often your posts are shared
In the consideration stage, newsletters are most likely what you will use. So, we can use metrics such as
Delivery rates ― the percentage of your emails reaching customers
Social share rates ― how many your newsletters shared into social media
Open-to-click rates ― how many times the links in the emails are clicked
While the results may vary, analyzing the data is important. The sooner you find something doesn't work, the better you can make an improvement.
Conclusion
Content marketing is a strategy to build long term engagement with the customer by providing valuable content.
This strategy is great because it is impactful, cost-effective and targets long term goals.
There are many types of content marketing such as:
Blogs
Newsletters
Social media channels
Infographics
Whitepapers
Make sure you pick the best types for your content marketing campaign.
If you want to use content marketing, you need to follow these steps:
Knowing your audience
Finding your niche
Analyzing
So, what are you waiting for? Let's start your content marketing strategy now and get more revenue.