How to Create a Business Email Account in an Instant
Having a formal business email address is essential for any brand or business looking to grow its online presence.
A corporate email address allows you to use your company's domain name instead of a generic one. In place of something like name@gmail.com, you will have a branded email address similar to name@businessname.com.
This guide will walk you through how to create a business email address. We'll explain the reasons why creating a professional email address is essential, what the requirements to have one are, and a few ways to set it up.
Download Website Launch Checklist
How to Create Free Business Emails at Hostinger – Video Tutorial
Check out our video tutorial on how to create a professional email address.
Why Do You Need a Business Email?
Since emails are the third most influential source of information in business, using a custom email account is a must when starting a business.
People who see a formal business email address will immediately notice the name of your brand or business with every email you send. It's an opportunity to promote your brand and boost customer trust, and it looks professional, too.
On the other hand, if your email address doesn't have your business name on it, your work mails are more likely to be marked as spam. If you're not using a professional email address, your email marketing efforts may be wasted.
Fortunately, there are ways to create a free business email address or get one at a minimal cost. Setting up business email addresses is also easy because it requires little technical knowledge.
What Are the Requirements?
To create a professional business email address, you'll usually need a domain name and a web hosting account. 
A domain name is a custom web address used to access websites. Your custom domain will be incorporated into your business email address, for example, you@yourdomain.com. 
To purchase a domain name you should contact companies called domain registrars.
A web hosting account, meanwhile, allows you to rent server space and use it to build and manage websites as well as host branded email inboxes. The companies that offer hosting services are called web hosting providers. There are several types of hosting that cater to different needs.
Many hosting providers, including Hostinger, offer business email services with the purchase of hosting plans. Hostinger also doubles as a domain registrar.
If you purchase hosting for at least one year from Hostinger, you'll be eligible for a free custom domain for the first year. Be sure to check the availability of our free domain offers on our website.
However, you don't necessarily need to purchase a website hosting package to create a business email address in some cases. We'll explain this in more detail when we discuss email hosting later in this guide.
The following tutorial will show you how to buy a domain name and purchase a hosting plan to create a business email address.
Keep in mind that if you plan to purchase a Hostinger web hosting plan for a year, you should skip the guide on how to buy a domain. You'll be able to claim a free domain after the checkout.
Buy a Domain Name
First, choose the right domain name for you. Make sure to pick a business domain that's memorable and concise.
Go to the Hostinger domain name search tool to gauge the availability of your preferred name.
The domain checker will display a list of available domain names. Browse to find the most suitable website domain extension and check the domain price. To ensure memorability, pick one of the most common extensions like .com, .net, or .org. Use the Filter icon within the search bar to specify your query.
If none of the available domain extensions appeal to you, check the domains under Alternative titles.
Once you've found the most suitable name and extension combo, click Add to Cart and then Continue to cart to proceed to the checkout page.
Choose the period for your domain subscription, and then click Checkout Now to make a payment. If you have not logged in or registered for a Hostinger account, you will be prompted to do so.
Before purchasing a domain name, however, make sure that it is not a registered trademark. You can check trademarked names and phrases on the website of the United States Patent and Trademark Office.
In the following section, we'll explain how to buy a web hosting service.
Get Hosting Services
Go to Hostinger's homepage and click Hosting in the top menu to choose the type of hosting plan that fits your needs best. For this example, we'll go with Shared Web Hosting.
Choose the plan you want to use and click Select.
Before finishing the purchase, pick the length of the subscription. Then, scroll down and fill in the payment details. Click Submit Secure Payment.
Once the payment goes through, you'll be able to secure a custom domain – follow the steps in the previous section if you require assistance.
How to Create Free Business Email Accounts
In general, there are two ways to create a business email account – either through your hosting provider or an external email hosting provider. In this section, we'll explain the former.
If you have secured hosting and a domain from Hostinger, all you have to do next is to set up the free business email addresses that come with your hosting plan.
Premium Shared Hosting and Business Shared Hosting users can create up to 100 free business email addresses. In contrast, Single Shared Hosting users can only create one free email account.
In the guide below, we'll discuss how to create a free business email account with Hostinger email service.
Hostinger Business Email Account
Get started by logging in to your Hostinger account. To do so, enter your username and password. This will open the hPanel – it's the control panel for hosting management.
From the menu at the top of the page, select Emails.
Locate your own domain and click on it.
On the Email Accounts page, find the Create a new email account section. You'll find the number of allocated email accounts there, which will depend on the hosting plan you have. Click on Add email account.
In the new window, enter the Email Name. For example, a suitable email handle for customer inquiries would be contact@yourdomain.com.
Create a new password for the email address. We recommend using a password manager to generate and save a secure password.
Click on the Create button.
Newly added and old working email addresses will be listed in the Manage Email Accounts section. Click the vertical ellipsis button to reveal management options, such as Change Password and Delete.
Your Hostinger business email address will now be active. You can start using it to send and receive work mails.
Zoho Mail Business Email Account
Zoho Mail is a popular email service provider that offers both free and paid plans. The Forever Free plan offers email hosting for one domain with up to five users and includes 5GB of storage per inbox. It's a good choice for a small team that only exchanges text and small files through their work mails.
In contrast to setting up business emails through hosting providers, external email hosting providers like Zoho Mail don't require you to purchase a hosting plan. However, you still need to have access to a domain.
Follow these steps to set up a corporate email address using the Zoho Mail Forever Free Plan:
Get started by going to the Zoho Mail homepage and selecting Pricing from the top menu. Scroll down until you find the Forever Free Plan and click Sign Up Now.
Create a Zoho Mail account by filling in your Name, Email Address or Mobile Number, and Password. Agree to the Terms of Service and Privacy Policy and click Sign Up.
Choose Create domain based email account in Zoho and click Proceed.
Once you get to Email Setup, the first step is to set up Hosting. Scroll down to find the Free Plan and click Try Now.
Under Add an Existing Domain, click Add Now.
A new window will pop up. Enter your domain and your organization's name into the respective fields. Click Add.
After adding your own domain, select Proceed to Domain Verification.
You will be asked to choose between three methods to verify your domain. You can do it by adding a TXT or CNAME record or by uploading an HTML file.

In this tutorial, we'll select Add a CNAME record in the DNS from the drop-down menu.
Open a new tab in your browser and log in to your domain registrar. If you registered your domain with Hostinger, log in to hPanel.
Select Domains at the top of the page, then click on your domain name.
On the left side of the page, select DNS / Nameservers.
In the Manage DNS records section, fill in the form to add a new CNAME record.
Type – Select CNAME from the Type drop-down menu.
Name – Copy the CNAME Name / Alias value provided by Zoho Mail and paste it into the field.
Target – Copy the CNAME Value / Points To / Destination value from Zoho Mail and paste it into the field.
TTL – Enter 14400.

Make sure the values are correct and click Add Record.

Go back to Zoho Mail, and select Proceed to CNAME Verification.
As the Super Administrator of the organization, you'll be asked to create an email account by entering your new custom business email handle – for example, yourname@yourdomain.com. Click on the Create button to proceed.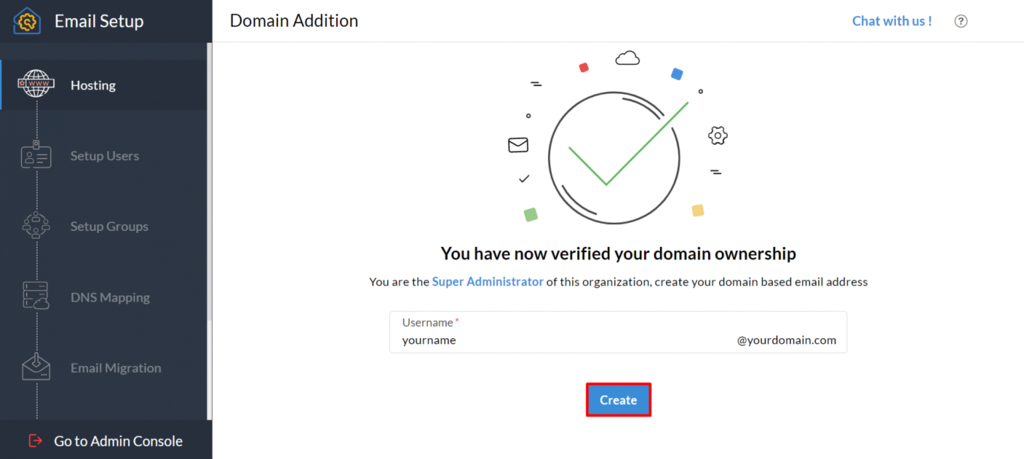 In the Setup Users step, you'll be able to add more branded email addresses to your organization. The Setup Groups step will come after that. Here, you'll be able to create groups to make internal communications more organized.
Return to the DNS / Nameservers on hPanel. Search for existing MX records and Delete them all.

On Zoho Mail, proceed to the DNS Mapping step. In the Mail Exchanger (MX) Records section, find the values for all three of the new MX Records that you must add on hPanel.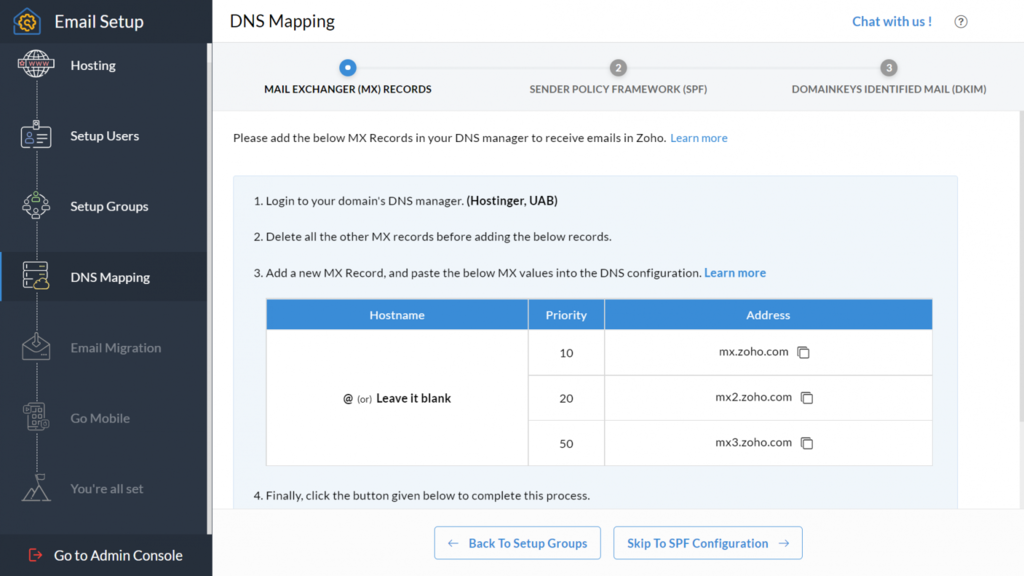 Add the three MX records that you see on this page into the Manage DNS Records section one after the other.

Enter the Address values provided by Zoho Mail into the Mail server field on hPanel. Here's what the newly added MX records should look like:

Go back to Zoho Mail and click Verify MX Records. You'll now be able to receive emails via Zoho Mail.
Select Proceed to SPF Configuration. Sender Policy Framework (SPF) will authenticate your custom corporate email address and prevent spammers from forging it.
Zoho Mail will provide you with the values for the new TXT record that will configure your SPF. Paste them into the Manage DNS Records section on hPanel. Click Add Record.

Return to Zoho Mail and select Verify SPF Record.
Lastly, Proceed to DKIM Configuration. DomainKeys Identified Mail (DKIM) uses encryption to validate emails. Like SPF, its purpose is to combat spammers.
On Zoho Mail, copy the values for the new TXT record that will configure your DKIM and paste it into the Manage DNS records section on hPanel. Click Add Record.
Return to Zoho Mail and select Verify DKIM Record.
Now that the most important steps of setting up Zoho Mail are taken care of, feel free to adjust other settings, such as setting up new users and groups.
Creating Business Email Accounts Using Email Hosting
Nowadays, website and email hosting is often bundled together. Still, some businesses prefer dedicated premium email services.
Email hosting is a straightforward solution for businesses that want to use email exclusively or separate their email activities from their business website. Hostinger offers two types of email hosting powered by Google business suite and Titan.
Google Workspace allows you to use Gmail, Google's powerful mail client, with a custom address. For $6.00/month per user, you'll gain access to 30 GB of cloud storage, unlimited mail filters, and advanced security features. The plan also includes tools such as Google Meet, Docs, Slides, and more.
Titan Email Hosting, meanwhile, comes in two packages. The first one is Business Email, priced at $0.99/month per user. This plan includes 10 GB storage, advanced security features, an inbuilt calendar and contacts, and 50 email aliases.
The other plan is Enterprise Email and costs $2.49/month per user. In addition to all the features included with the Business Email plan, Enterprise Email offers 30 GB of storage and unlimited mail filters.
Conclusion
Having access to a branded business email address is essential to strengthening your brand and building customer trust. Fortunately, creating a professional email address without spending too much is possible. Doing it is simple, too – no technical know-how is required.
All you need is a custom domain name and a hosting plan that includes a free domain based email address. All hosting plans offered by Hostinger include emails that are easy to set up via hPanel.
To recap, here's how to create email for a business:
Go to hPanel -> Emails.
Select your domain.
Under Create a new email account, click Add email account.
In the new window, enter the Email handle and Create a new password.
Select Create.
Under Manage Email Accounts, adjust the settings by clicking the vertical ellipsis button next to each email account.
Alternatively, you can create business email addresses through an email hosting service provider. External email hosting services like Zoho Mail must be connected to an existing domain, but you won't need a separate web hosting account.
The final option is purchasing dedicated email hosting from a hosting provider. Hostinger offers email hosting services powered by Google Workspace and Titan platforms.
Now that you know how to set up a professional business email address, go ahead and get started. We always appreciate feedback – if you have any remarks or questions, feel free to leave them in the comment section below.