8 Best WordPress Real Estate Plugins
If you are a realtor who wants to ensure the success of your business, creating a website is an absolute must. Make sure that your website is not only visually appealing but also powerful, user-friendly, and highly functional! To help you with the task, there are plenty of WordPress real estate plugins that you can use.
In this article, you will learn about the best WordPress real estate plugins on the market.
Why Real Estate Plugins?
To create a real estate website, you need to choose a CMS (Content Management System) such as WordPress. Unfortunately, the default functions of a WordPress site, might not be enough to launch a successful real estate business.
To add custom functions and additional features to your real estate website, you must use plugins.
Some plugins are available for free, while others have an annual or a monthly price tag.
Every plugin is developed with a specific purpose in mind. Some of them may be designed to fight spam, while the others are created to boost your SEO.
So, if you want to build a great real estate website, using plugins specifically designed to develop real estate sites is the smartest choice.
Things Needed to Get Your Real Estate Site Going
Launching a website for your real estate business is no different from creating any other website.
First thing you need is to decide which platform you are going to use. For this matter, we strongly recommend you to choose WordPress since it is very powerful and has a lot of customization options.
But before you start building your site, there are a couple of steps to cover first:
1. Pick Proper Web Hosting
Imagine that you are building a house without land. Would that be possible? Of course not. This concept is similar to a website: you cannot create one without web hosting.
Choosing web hosting should not be taken lightly. You need the one that is fast, dependable, and cheap.
Here at Hostinger, we offer great quality, budget-friendly, reliable hosting. Here's an example of our prices: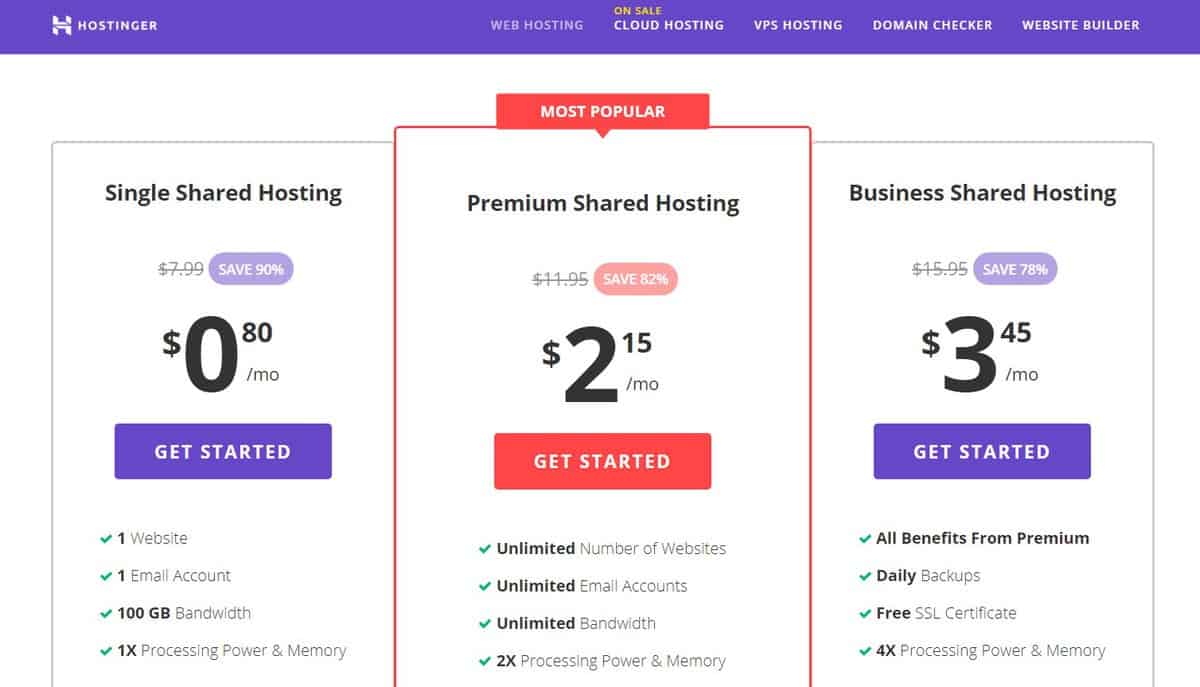 2. Register Your Domain Name
The next thing you need to do after acquiring web hosting is registering your domain name. A domain name is the address of your website.
While there is no limit for your creativity, we suggest you stick to the niche you are going to pick (in this case, a real estate site).
Make sure that the name you choose is catchy and memorable.
You can also use your own name for branding. Many real estate agents are known to succeed in doing this, such as The Altman Brothers in Beverly Hills and Jon Grauman in Los Angeles.
Moreover, if you already have a real estate company, it would be much better to use your company's name instead. Picking a different name will create confusion among your clients.
3. Pick a Real Estate Theme
One of the best things about WordPress is that it has tons of beautiful themes. Some of those are completely free while the others provide a premium plan that would give you a lot of additional features when developing a site.
Nonetheless, even if you have complete freedom to choose the one you like, we recommend you to use a theme that is specifically designed to create a real estates website, such as Real Spaces, DreamVilla, and Real Estate 7.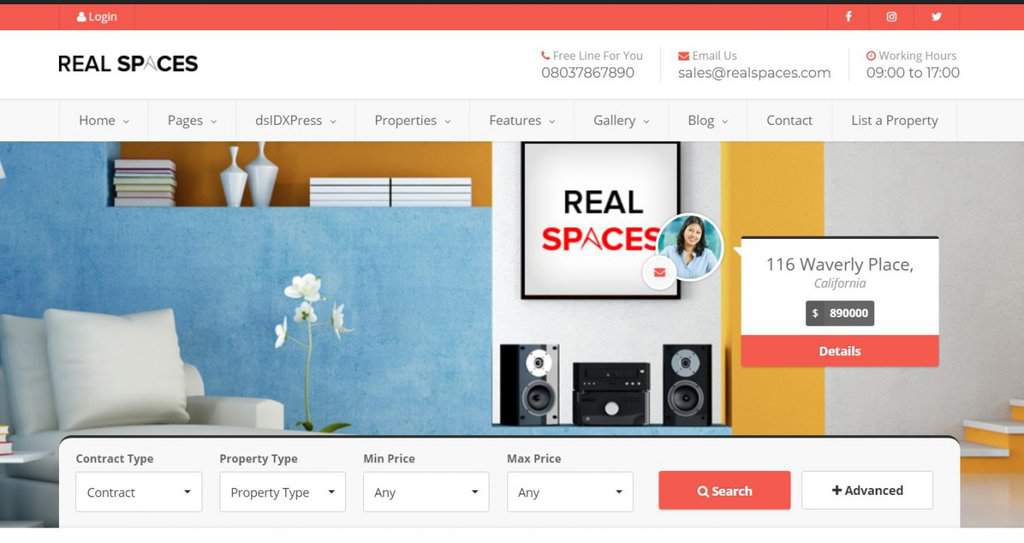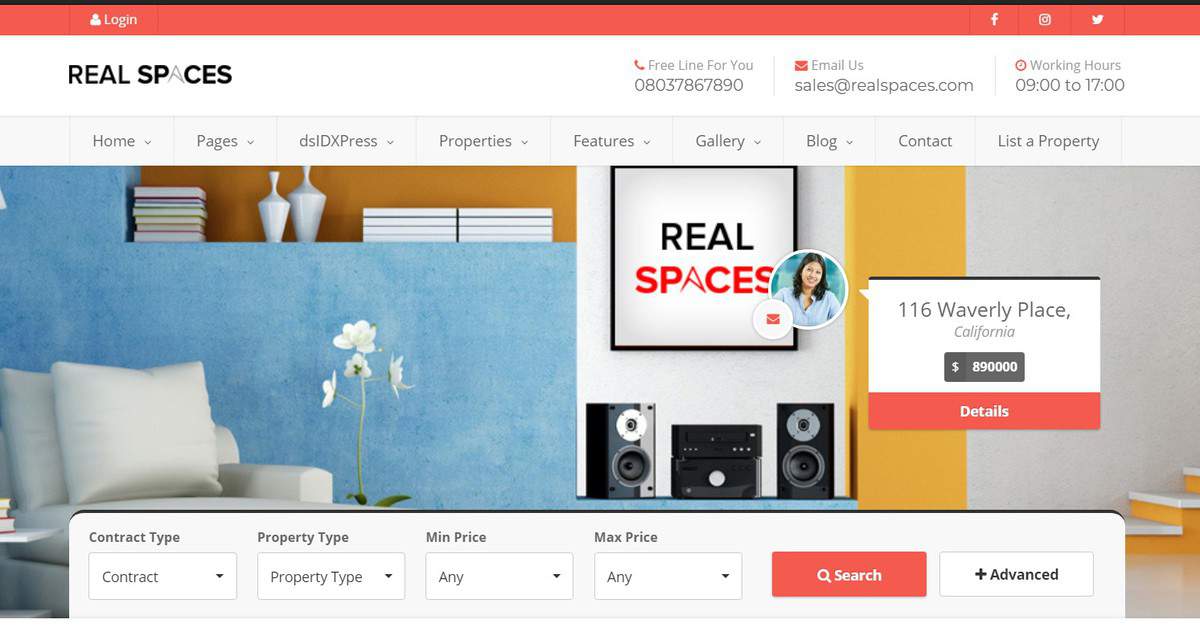 4. Get Some Real Estate Plugins
Making your real estate site stand out among the competitors is not going to be easy. Luckily, there are a lot of WordPress plugins that you can use to help your site thrive and beat the competition.
A plugin is a tool that adds custom functions and features to your site. The combination of a theme and a set of plugins is a powerful weapon that will keep your real estate website going strong for a long time.
Top 8 WordPress Real Estate Plugins
Using the most appropriate plugin for your WordPress can be the distinguishing factor that brings glory to your real estate business.
In this article, we would like to share eight top WordPress real estate plugins that will make a huge impact on your business.
Keep in mind that not all of those plugins are available for free. Nonetheless, they are still worth buying.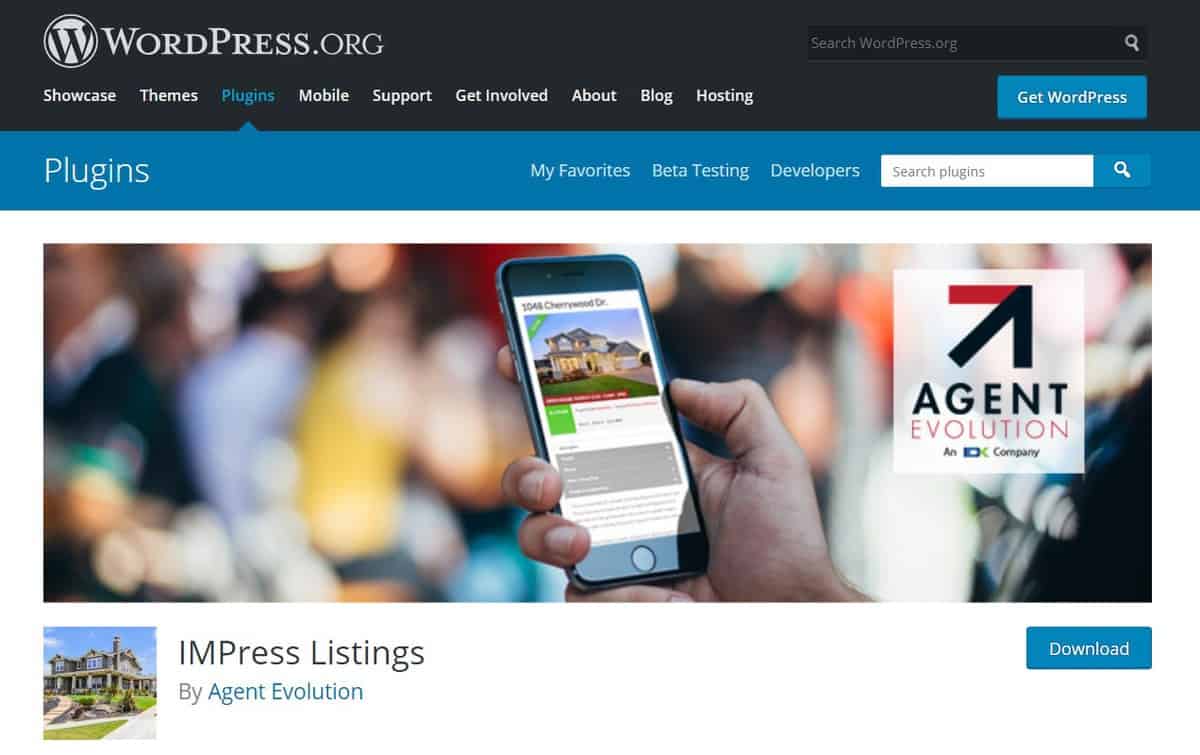 IMPress Listing is a real estate plugin with an attractive listing management system. The plugin can help you to integrate MLS while providing status tags for all listings that you have, including a map, address, country, price, and many more.
This WordPress real estate plugin is also equipped with a number of cool features, such as automatic map insertion.
All you need to do is embed the property coordinates and the system will automatically display the map. This method will speed up the property data input process and reduce your site loading speed.
The best thing is – impress Listing is a free open-source plugin. You can use it without spending a penny!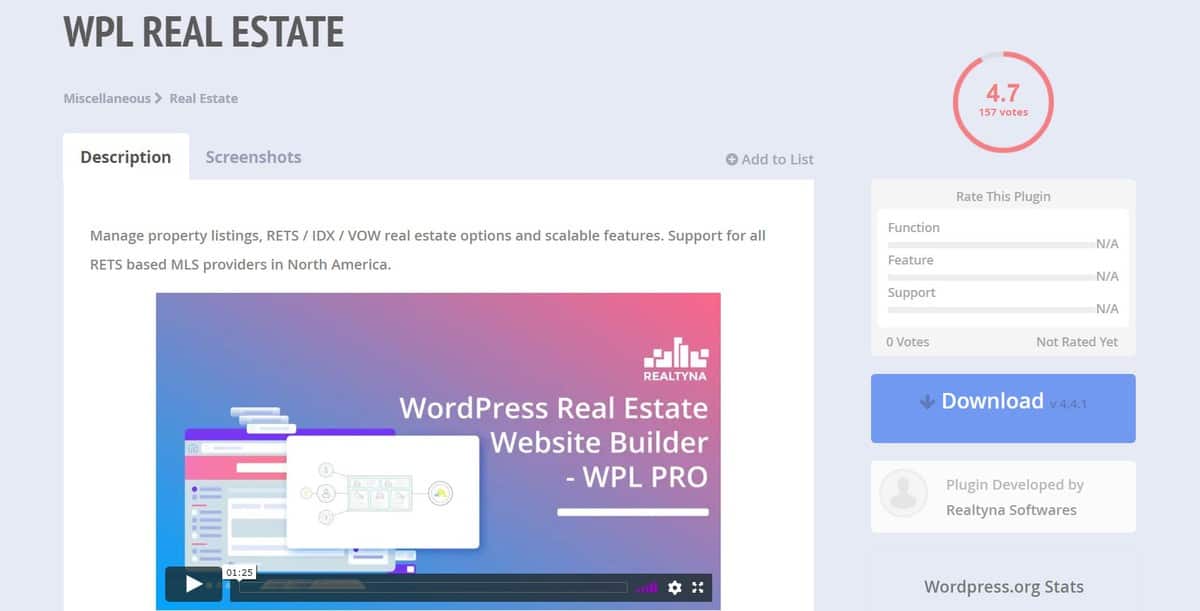 WPL (WordPress Property Listing) Real Estate is a powerful WordPress plugin that offers beautiful-looking themes and a lot of add-ons.
The real estate plugin supports organic, SEO friendly MLS integration and has an automatic listing feature.
WPL Real Estate allows you to modify all fields without having to customize the database. It also supports some of the most popular WordPress themes for real estate business, such as Avada, Agent Press Pro, and X Theme.
This WordPress real estate plugin also provides an expansion package with loads of useful features, such as an automatic integration of WordPress with MLS/IDX/RETS/XML/VOW, automatic translation tool, and cloud hosting.
The package costs $199 (it is a one-time payment with a lifetime license).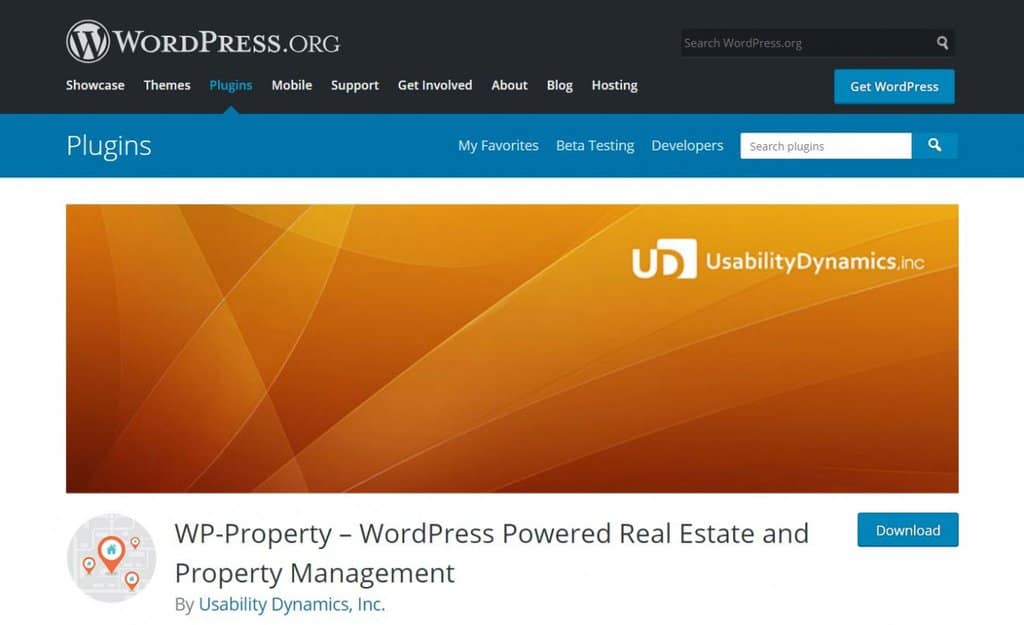 WP-Property is designed specifically for creating and handling real estate websites. It could be used as a management tool, property listing manager, or livestock checker.
The WordPress real estate plugin allows you to filter customization by providing quick specific search criteria. The attributes can be adjusted to list a lot of items, making it ideal for creating a site for hotel reservations, second-hand vehicles, and property deals.
WP-Property is available for free. The plugin also provides free add-ons, such as Power Tools, Importer, and Walk Score that will help you to create a fully-functioning real estate website without any cost!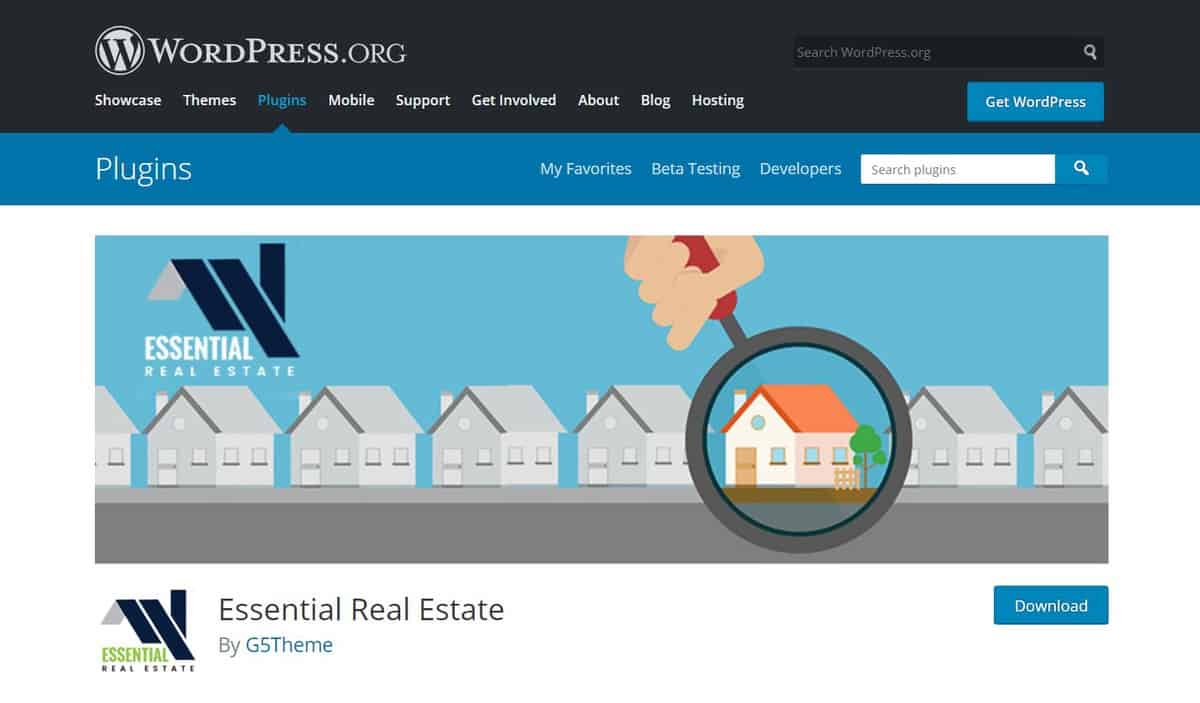 Building a WordPress real estate website cannot get any easier with Essential Real Estate plugin. This tool provides a number of templates and features that also support global payment such as Paypal, Wire Transfer, and Stripe to help you expand the business.
This WordPress real estate plugin has everything you need: multiple listing options, social login feature, automatic geolocation inquiry, and invoice manager.
In addition, it also supports the cutting-edge 360 virtual property tour.
Essential Real Estate Plugin is completely free! You can use all of its features without having to pay additional fees for add-ons.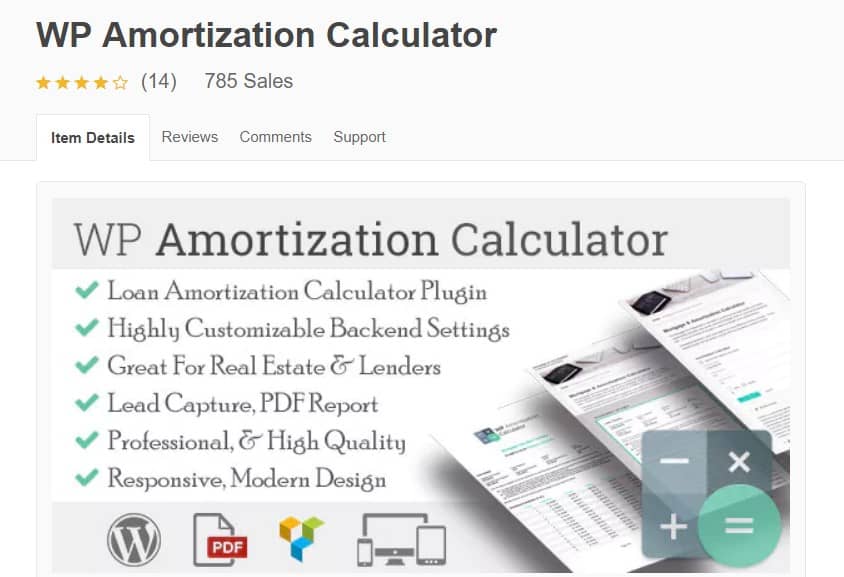 This premium real estate plugin will help you to create a customizable mortgage calculator or an amortized loan.
WP Amortization Calculator allows you to override the default theme with your own CSS. The plugin supports all standard WordPress themes.
Moreover, it also features a visual composer integration. You can drag & drop the visual composer elements directly to the plugin and it will be processed automatically.
This plugin will cost you $21 per year.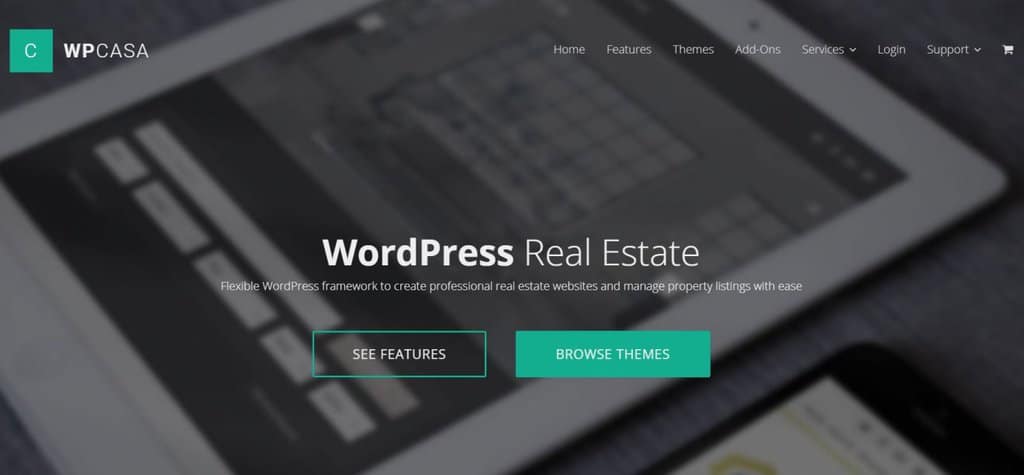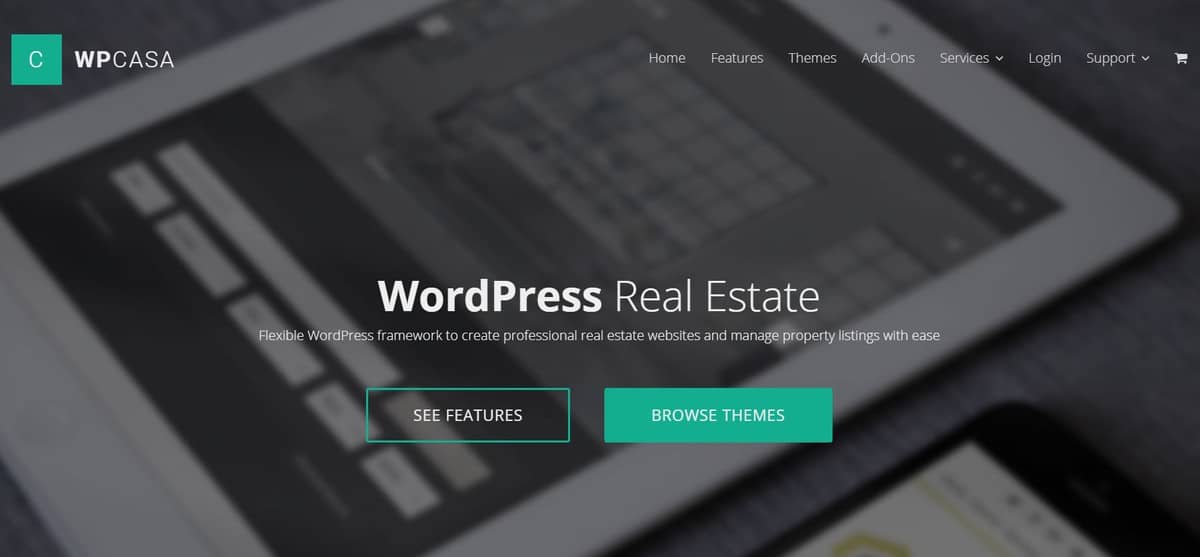 WPCasa is perceptive WordPress real estate plugin that can help you to build a beautiful and fully-functioning website without any hassle. It offers a free custom engine that allows you to customize its appearance as wild as possible.
This plugin also has a premium theme package specifically designed to develop real estate businesses, such as WPCasa London, WPCasa Sylt, and WPCasa Elviria.
You can get it by paying $55 or $78 (the latter option gives you a premium selection of add-ons, such as WPCasa Listing Labels and WPCasa Currency Converter).
The premium package has already included free theme updates and premium support for a full year.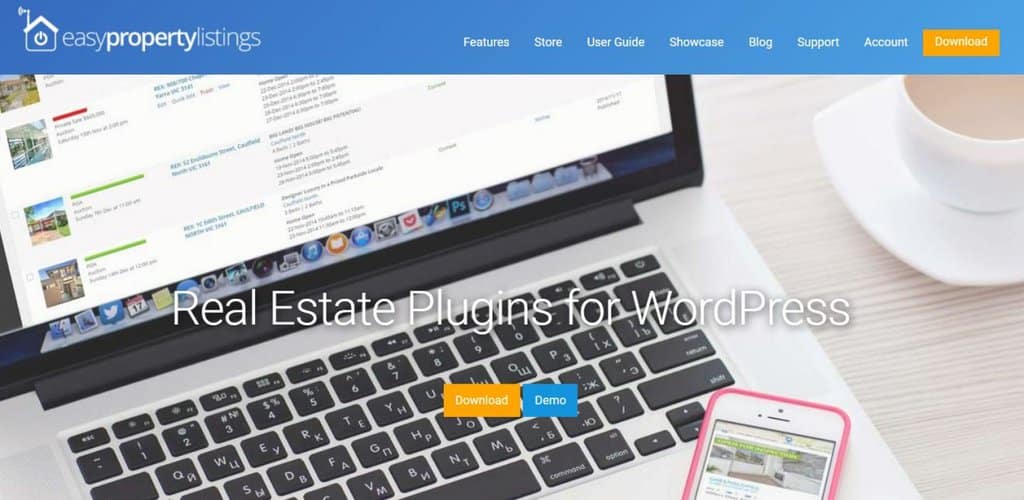 For those of you who rely on speed in real estate business, Easy Property Listing is the plugin you cannot miss. This tool offers a mobile-friendly property listing that supports multilingual system and no fewer than 100 free WordPress themes!
The listing is displayed in a grid format. That way, the page will be more responsive for the users.
It also has extensible code and pre-configured templates to help the beginners to customize the functions without needing to bother with modifying CSS, coding, etc.
Furthermore, Easy Property Listing offers a lot of premium add-ons that cost from around $20 to $100. You can also buy the Core Extension Bundle for $297 to get various premium add-ons in one package.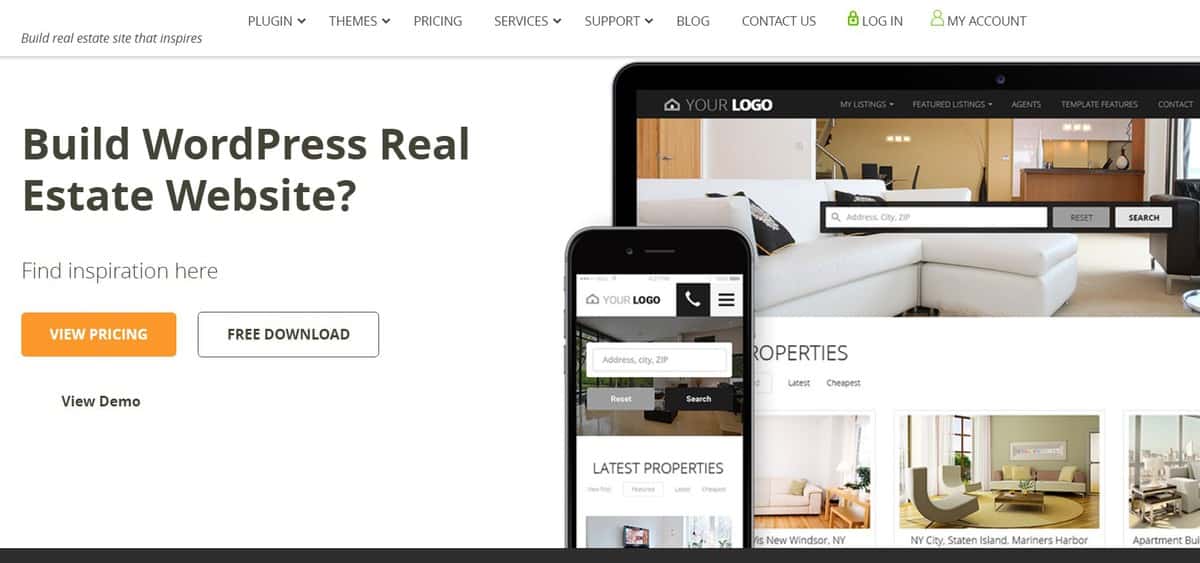 This plugin offers a super responsive function combined with a minimalist theme. It supports a variety of mainstream features in WordPress, such as slideshow widgets, photo galleries, and the automatic google map integration.
Estatik is also equipped with a Fields Builder feature that allows you to easily and quickly make custom fields. There is no limit for the number of custom fields you can create.
Moreover, this WordPress real estate plugin has a premium package that costs only $89 for a lifetime license. You can also get free updates and access to the download area, as well as premium support for a full year.
Conclusion
Creating a real estate website is similar to creating any other website. You need to choose your preferred web hosting, pick a domain name, get a nice theme, and install some WordPress plugins.
Here are the best 8 plugins for your real estate website:
Impress Listing ― this plugin will help with MLS integration. It is completely free to use!
WPL Real Estate ― offers beautiful-looking themes and a lot of add-ons. It is free, but it also provides an expansion pack that cost $199 for a lifetime license.
WP-Property ― a very versatile plugin that can be used for various businesses, such as hotel reservation, second-hand vehicles, and property deals. The plugin is free to use and provides a lot of free add-ons.
Essential Real Estate ― a  great plugin that offers you a lot of useful templates and themes. It is completely free to use.
WP Amortization Calculator ― offers a customizable mortgage calculator and amortized loan with a lot of extra function. You need to pay $21 per year to use the plugin.
WPCasa ― helps you to build a beautiful and fully-functioning real estate website by using its custom engine. While it is free, the plugin also sells tons of premium real estate themes for $55 to $78.
Easy Property Listing ― a mobile-friendly property listing plugin that supports multilingual system and gives you tons of free WordPress themes. It is free, but you need to pay $20 to $100 if you want to use its premium add-ons.
Estatik ― has a nice Fields Builder feature to help you to create unlimited custom fields on your real estate website. It offers a lifetime license premium plan for only $89.
While creating a real estate website can be quite intimidating for beginners, the result of your effort is always rewarding.
By having a beautiful and fully-functioning WordPress real estate website, you have opened a path that will attract a lot of users to visit your business. Good luck!