What to Expect From Linux in 2017: IPv6, High Scalability, Is Anyone Using CephFS?
One venue, 25th anniversary of Linux, 1000 people and 3 days with more than 100 sessions (from tutorials to deep technical dives and everything in between). These numbers pretty much sum up Berlin LinuxCon Europe conference that took place this year. This event is one the biggest Linux community gatherings so let's get the idea where Linux is heading in 2017.
For 3 days Hostinger team participated in discussions how to accelerate open technology development and commercial adoption.
25th anniversary of Linux
2016 marks the 25th anniversary of Linux – the Linux operating system kernel is 25 years old this month. It was August 25, 1991, when Linus Torvalds posted his famous message announcing the project, claiming that Linux was "just a hobby, won't be big and professional like gnu."
But now, Linux is far bigger and it powers a huge part of the Internet's infrastructure, data centers, websites, smartphone operating systems, and nearly all of the world's fastest supercomputers.
Linux Foundation estimates that:
Linux is the operating system for over 95% of the top 1 million domains
Over 80% of smartphones run Android which is based on Linux
Of the top 500 fastest supercomputers in the world, more than 98% run on Linux
Most of the global markets are running on Linux, including NYSE, NASDAQ, London Exchange, Tokyo Stock Exchange, and more
The majority of consumer electronic devices use Linux for its small footprint
More than 75% of cloud-enabled enterprises report using Linux as their primary cloud platform
Linux is the go-to infrastructure supporting the world's e-commerce leaders, including Amazon, Ebay, Paypal, Walmart
What is LinuxCon?
LinuxCon Europe, which took place in Berlin this year, sees itself as the place to learn from the best and the brightest, delivering content from the leading maintainers, developers and project managers in the Linux community and from around the world.
"As LinuxCon Europe claims – there's simply no other event in Europe where developers, sys admins, architects and technical talent gather together under one roof. Of course, Hostinger team were there to check it out", Donatas Abraitis, Lead System Engineer at Hostinger International, said.
Is anyone using CephFS? Well, we are
One of the hottest storage topics this year is Ceph, a free-software storage platform. At the moment it is developed mostly by Inktank, RedHat, and other developers. And now as any other open source project, Ceph is developed by anyone basically.
Why is Ceph so important? It is scale-out, that means multiple Ceph storage nodes (servers) represent a single storage system that easily handles many PetaBytes (1PB = 1,000 TB = 1,000,000 GB) and increases both performance and capacity at the same time. Open source means lower cost, software-defined means deployment flexibility and faster hardware upgrades. That's what we need, right?
CephFS updates
Though a Stable release of Ceph, "Jewel", was only introduced in June 2016 (that's 3 months ago), Hostinger, one of the leading innovators in hosting industry, is already using it. Hostinger team believes that there are only a few hosting companies in the world that are using CephFS for delivering services to clients. So it was not surprising that all participants were very excited to hear about future system updates.
Ceph file system (CephFS) updates that were announced in Berlin:
CephFS: Multi-MDS support starting with v10.3.0;
CephFS: Production reasonably stable with v10.2.3 (000webhost.com, part of Hostinger group, is already using this version);
v10.3.0 should appear ~December 2016 and it will have BlueStore (but still as an experimental store). With v12.x (~March 2017) it will be shipped as default.
"After discussions with CephFS community, we are more motivated than ever to continue using CephFS in our production environment. It seems that the horizon for Ceph is brighter than ever. And of course, Hostinger is excited to be on the frontlines. It was interesting how some of the presentations went. One speaker asked the audience: "Is anyone using RBD?" Many hands. "Is anyone using CephFS?" A single hand was raised – it was me. "Really?" All audience including the speaker were laughing", – Abraitis said.
Booking.com case study – no support yet
Booking.com, which has over 1,000,000 properties globally and deals with almost the same number of reservations each day, shared their experience in Berlin how they are load balancing all infrastructure at scale.
IPv6 is gaining its ground – Booking.com and other tech giants are going the same direction as Facebook whose data centers fabric is all IPv6. As a topic, IPv6 was raised heavily this year. It is no surprise – as experts estimate that the internet of things (IoT) will consist of almost 50 billion objects by 2020, the main advantage of IPv6 over IPv4 is its larger address space.
"At Hostinger we have already built high scalable load balancing using Equal-cost multi-path routing (ECMP) and IPv6, the most recent version of the Internet Protocol (IP), which is intended to replace IPv4. Even though regarding ECMP and IPv6 usage Booking.com team is going the same direction as Hostinger is, they still haven't implemented IPv6 support in their systems. We're excited to be able to say that Hostinger already has full IPv6 support in the infrastructure", Abraitis said.
Booking.com introduced only one additional L3 balancing layer (between leafs and spines) to balance traffic more granularly.
For L7 balancers booking.com is using HAProxy. Booking.com estimates that this works way better compared to Nginx and HAProxy consumes 30% less CPU in the user interface, fewer footprints per requests.
To avoid long BGP (Border Gateway Protocol) convergence times in case of failure scenario, Booking.com is using BFD on top of BGP and achieves 20ms in internal converge;
Booking.com automatisation is done by open-source configuration management tool Puppet. Hostinger is using Chef, tool written in Ruby and Erlang.
Discussions in Berlin just confirmed that many companies are still not ready for IPv6 world. It's unfortunate for business because companies have no choice – the majority of standard applications just don't have IPv6 support. Even Facebook had many challenges.
The World of 100 GbE networking
This year we are already talking about 100 Gigabit Ethernet (GbE) world. And in this world memory is still the main problem.
Although Hostinger, like many other leading hosting providers, is starting to use 10 GbE, Berlin LinuxCon Europe participants were already thinking about 100GbE. With DDR3 and its high bandwidth, the problem of transmitting data is getting even worse because memory latency is higher than each packet could be transferred.
Solution? Well, of course, DDR4. And we are proud to say that Hostinger is already using it.
Torvalds couldn't have imagined
At Hostinger, our vision has always been to build a platform that allows developers to run their infrastructure at scale without getting in their way. Our team spent an extraordinary amount of time designing Ceph, IPv6 and high scalability solutions and it allows us to deliver more complex features and workflows as well. We are glad that Hostinger team is able to deliver cutting-edge technologies to users that event industry giants (like Booking.com) are working their way in.
To sum up, now Linux is far bigger and opens more possibilities than Linus Torvalds could have imagined back in the 1990s.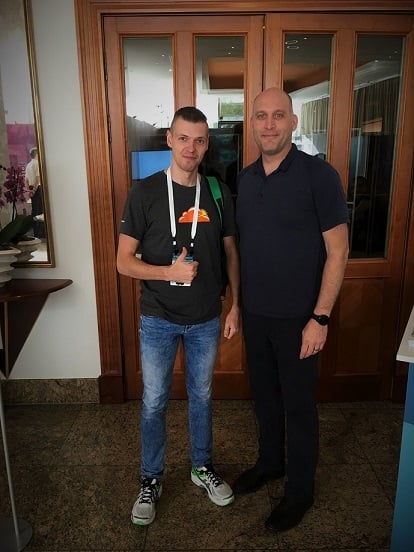 Quotes that we found relevant
P.S. You can check all the slides of speakers here.