If you feel that your talents and passions are not being used to their highest potential in your full-time job, starting a side gig is probably the best way to supplement on fun and pay.
In a fast-changing world that it is today, relying solely on one source of income and investing most of our time and energy into things that we don't quite enjoy doing is a surefire way to get disappointed.
No idea is too wacky for a side project. Here at Hostinger, we see entrepreneurs experimenting with a whole array of different types of online businesses – from something as commonplace as running a blog to more sophisticated projects like drop shipping.
As these 4 first-time entrepreneurs have demonstrated, no experience or business plan is required to kick off a successful online side project. With the right business idea, a catchy domain name and $2.15/mo to host your website, you can quickly make the leap and enjoy the benefits of your fast growing gig.
Boredom Drove This Blogger Into The Arms of Entrepreneurship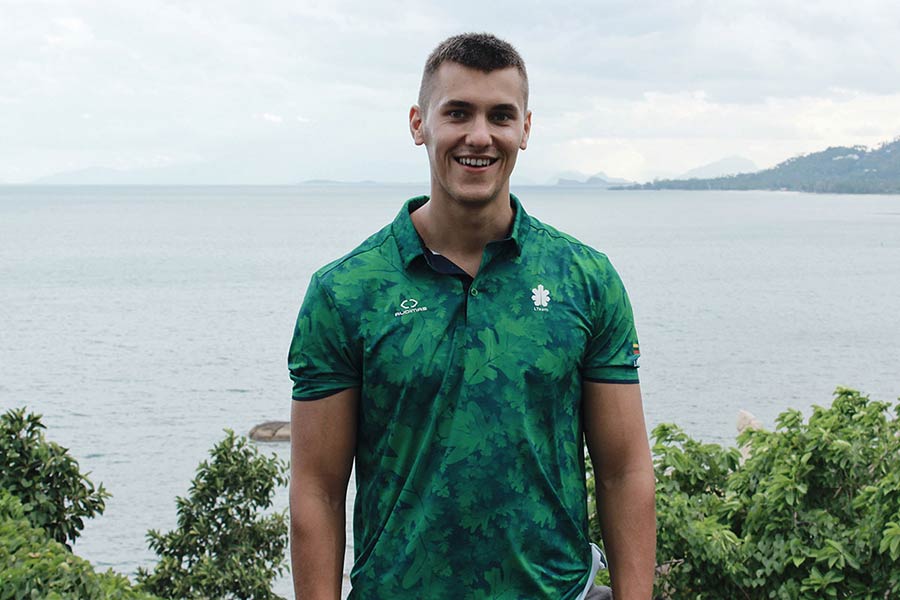 A lifestyle entrepreneur and blogger from Lithuania, Tomas Laurinavicius, says he always had a knack for entrepreneurship. When asked what finally led him to starting an online business, Tomas explained, "I got bored playing video games and decided to explore ways to make money online. Back in 2007, I discovered Photoshop and immersed myself in learning web and graphic design," he remembers. "In the first couple of months, I landed a client and made my first money online designing a banner for a local business in Lithuania."
A founder of numerous design blogs, Laurinavicius says his passion for web design and desire to share his discoveries with fellow creatives made it easy for him to settle on the niche and start building his dream. "My first side gig required no financial investments, just time and effort. At that time my mindset was fixed and I didn't want to risk losing money online so I did it for a long time, relying on free software, tools, and information," Tomas remembers. "Most of the time I would work 1-2 hours after classes or also on the weekends. One can do a lot with a sharp focus and a burning desire to create."
Thinking back to finding his first clients, Laurinavicius shares his most effective tactics, "Browsing local business forums, following job boards and listening to what people were saying on Twitter and LinkedIn allowed me to land some freelance gigs. Other than that, my blogging efforts were paying off and people would reach out because they read my articles."
Earning a Living by… Saving Penguins
Drop shipping is catching on to be one of the most popular online business ideas. With very low startup costs and a great earning potential, a number of ambitious entrepreneurs dip their toes into this market. Lukas Balsys is one of those digital nomads who have succeeded in building a profitable side business to support their lifestyle.
"After a few years working as an employee, I understood that 8-5 job is not for me,"  Lukas confesses. "I was looking for an opportunity to combine passion for traveling with my work. Drop shipping appeared to be the perfect choice as it provides the opportunity to work remotely and travel at the same time. I also have online marketing background which encouraged me to start an eCommerce business."
Balsys is running an online shop that caters to penguin lovers. He stumbled upon this idea  by simply brainstorming and researching. "The main criteria were: a very specific niche of passionate people, low competition and a wide selection of products on AliExpress."
A few weeks into the project, Lukas quit his full-time job and focused entirely on growing the business. "My initial investment was $50 for a Shopify store and a Facebook Ad campaign," he remembers. "I was lucky that the very first product I have advertised has become a bestseller. Within a few days, I was already getting a positive ROI."
When it comes to marketing tactics, Lukas says he kept it simple, "The only advertising channel I have been using was Facebook Ads. However, as the competition started getting tougher on Facebook, I recently started testing other social media channels."
A Small Book That Went Big
Having co-authored a book on mobile app design, UX designer Paula Borowska continues to hunt for new side gig ideas that could land her the next big breakthrough. "I am always looking to learn in order to improve my skills," says Paula. "I am extremely career driven, so I will never be happy with the current state of my skills. I want to be better at what I do, always. I work mostly with small startups and individual clients. Either way, they both need more of a generalist. So, although I am good at both interface and experience design, I don't have a specific trade such as iOS UI design."
She elaborates, "With that said, I do enjoy learning about a wide range of topics from cognitive psychology, behavioral economics to best front-end practices and mobile UX trends. All of those help me do my job better because working with startups and small companies require more general knowledge."
When it comes to the initial investment, Paula says she's spent around $100 to get the project off the ground, as most of the efforts went into research and the writing of the book. "We originally came up with the idea for the book in January 2014. But we didn't publish it till August. It was tough at first only because it wasn't our biggest priority. It was just an idea we had floating around. It wasn't until we sat down and truly agreed that we wanted to do this in June that everything became easier to manage. Once my priorities are set, it's hard for non-essential things to get in the way. If you are also working around a day job, you will figure out how to make time and progress on your project."
The success of the small book about designing mobile apps largely depended on a successful promotional campaign that authors ran online. "We got the first client while we were still writing the book. We created a waitlist where we shared progress on the book with an email list as we wrote it. We promoted it mostly on Twitter. But, later down the road, our sales were affected by listing the book on Product Hunt. We created a 2-week drip email course and published it on Product Hunt. That got a lot of attraction, we got thousands of emails within the first week. It was fantastic to drive awareness," shares Borowska.
Rocking The Internet at 16
Rachel Ji has started her online apparel company Youthx when she was 16. While most of the kids her age only start thinking about what they want to do in life, Rachel is on the brink of breaking 5-figures by the end of her first year of business. "I didn't want to wait until I was old enough, so I started it in high school. I've always been entrepreneurial since a young age, and I didn't see why I couldn't start early. I was good at social media, having built a large following 100k+, so I leveraged this to start an apparel company, aimed at youth empowerment," explains Ji.
As a student, Rachel didn't have the luxury to pour money into her online project to accelerate its growth, but that didn't stop her from succeeding. "You have to spend money to make money, and so you need to invest into the business. Since I carried no inventory, I would say I did not spend much. I believe it's doable for under $100," insists Ji.
Juggling her side project with studies was a tall order for Rachel, but she truly believes that "it's not about being busy or working hard, but it's about being smart with your time and not wasting it. We all get 24 hours a day!"
Wrapping It All Up
The most important lesson to take away from this article is that running an online side project requires more passion and ambition than anything else. You don't need a large upfront investment, special knowledge or 10 years' experience to try your hand at this tempting experiment.
Align your business idea with your passions and interests to ensure you're working on something that offers emotional rewards alongside the extra income. Launching an online business is a learning experience, so don't worry if you stumble on your way to success – only those who never try never fail.