Tuesday November 14, 2023
Unlocking Your Black Friday Potential: 7 Ideas to Make Every Day Count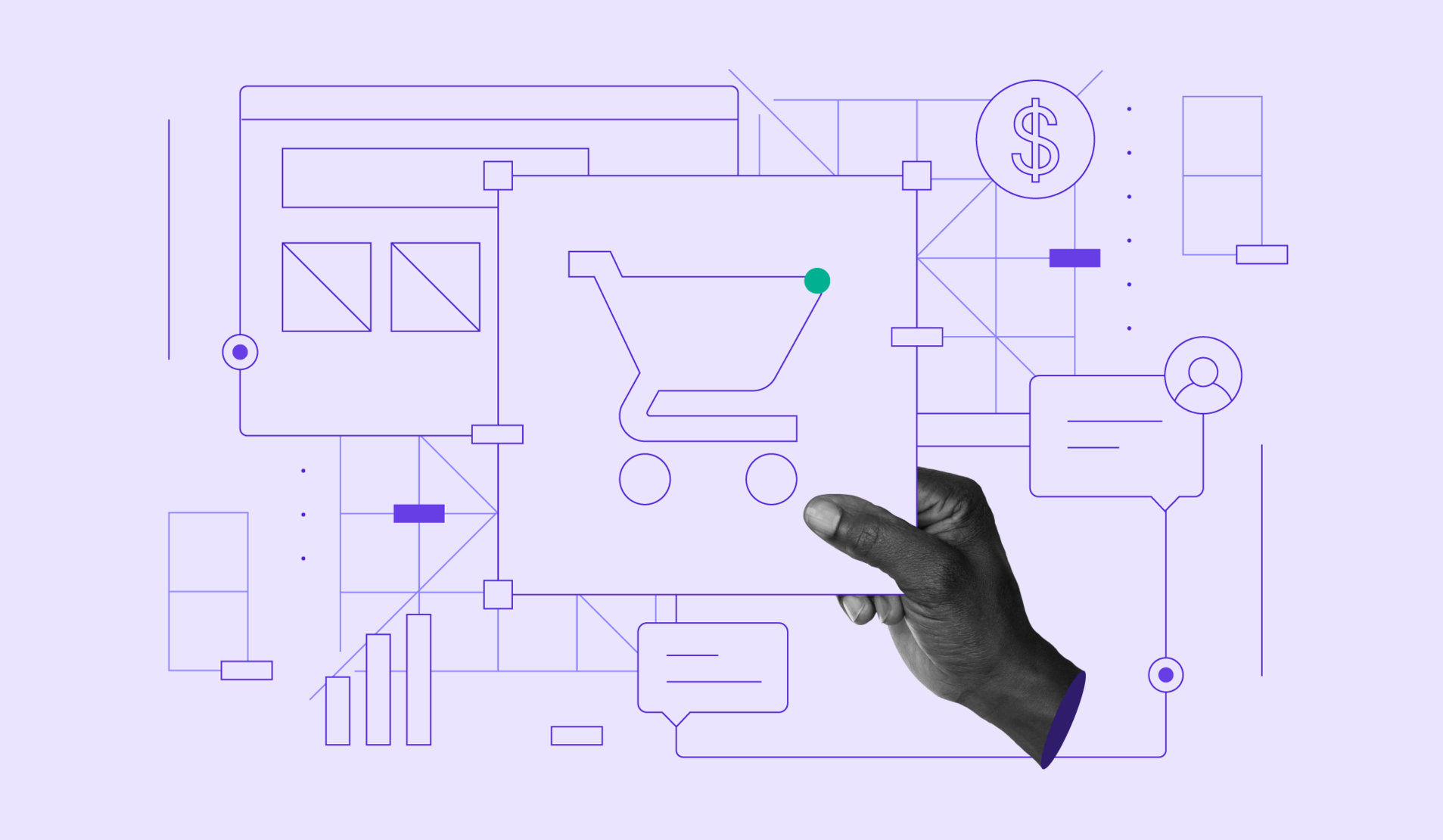 Black Friday's just around the corner, and it's not just any shopping day – it's like the Super Bowl for online shopping. eCommerce businesses have the perfect chance to engage with customers, boost brand awareness, and seriously ramp up sales.
So, let's make every moment count with some stellar moves to make your Black Friday marketing campaign successful.
We've prepared seven creative Black Friday marketing ideas, one for each day of the week leading up to the big day. Each idea is designed to capture attention while converting that interest into more sales.
Get ready to transform your Black Friday game!


1. Arrange Multiple Black Friday Deals
Instead of just one deal on Black Friday, surprise your customers with multiple deals throughout the day. Schedule one for the morning and another for the evening, or even space them out by an hour or two.
See below how bag brand Calpak offers four new discounts daily during their Black Friday sales period. You can adapt this strategy by applying it on one of the days leading up to the main Black Friday event.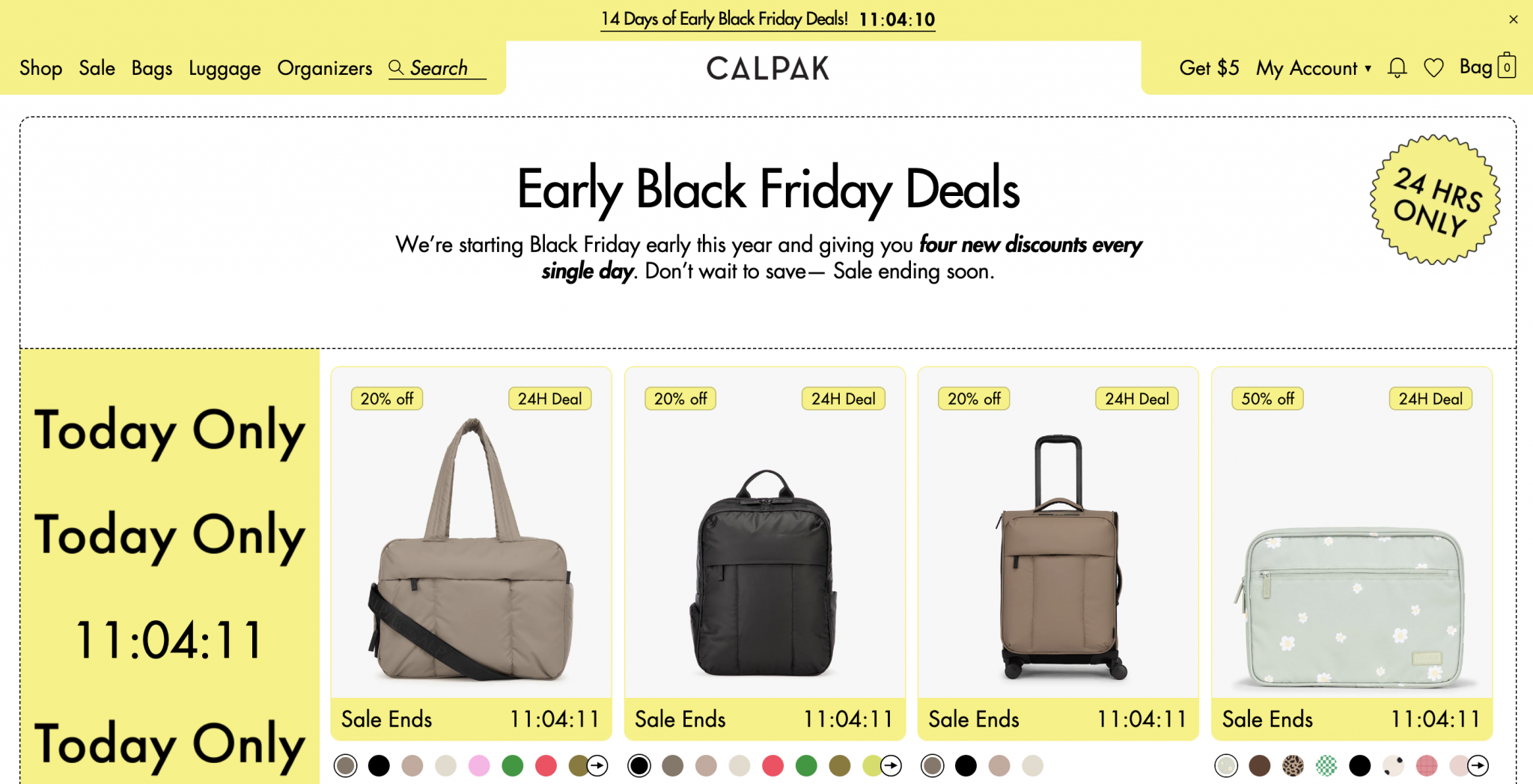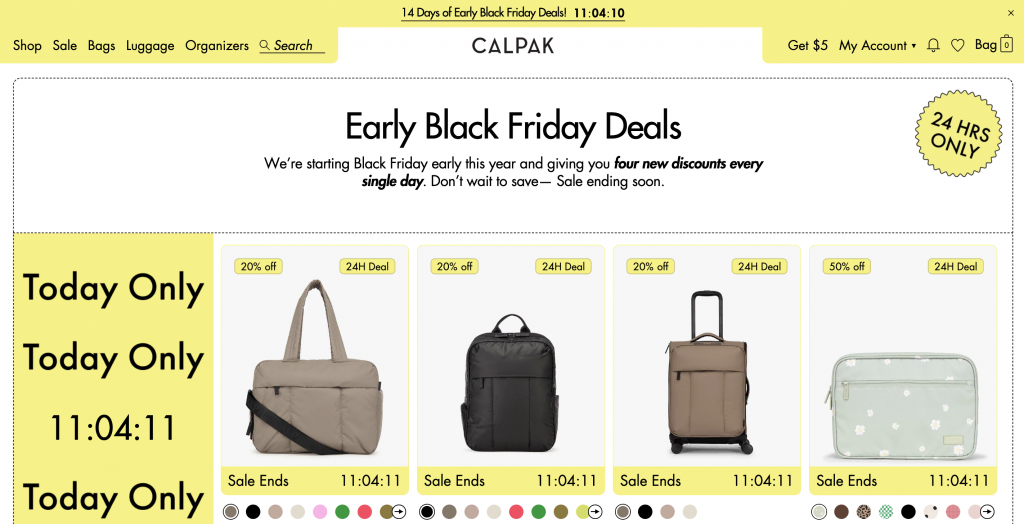 Add a countdown timer to crank up the urgency and trigger FOMO. It's like saying, 'Stick with us – we've got surprises all day long!'
This keeps your customers hooked and coming back for more. It's not just about a sale, it's about creating a shopping party they don't want to leave.
2. Create Irresistible Bundles
Ever bought a burger and thought, 'Fries would be nice with this'? That's basically the definition of a bundle.
Say a customer grabs a winter coat from your store. They don't know your shop also sells mittens that match the coat. Seize this opportunity by nudging them towards the mittens by offering them as a bundle.
Sometimes people don't realize what they want or need unless they see it. It's all about making shopping easier and more fun for them, and it's great for your sales too.
Check out how kitchenware brand Our Place offers bundles for its Black Friday deals. It displays the amount of money the customer will save by buying these bundles, showing how valuable these discounts are.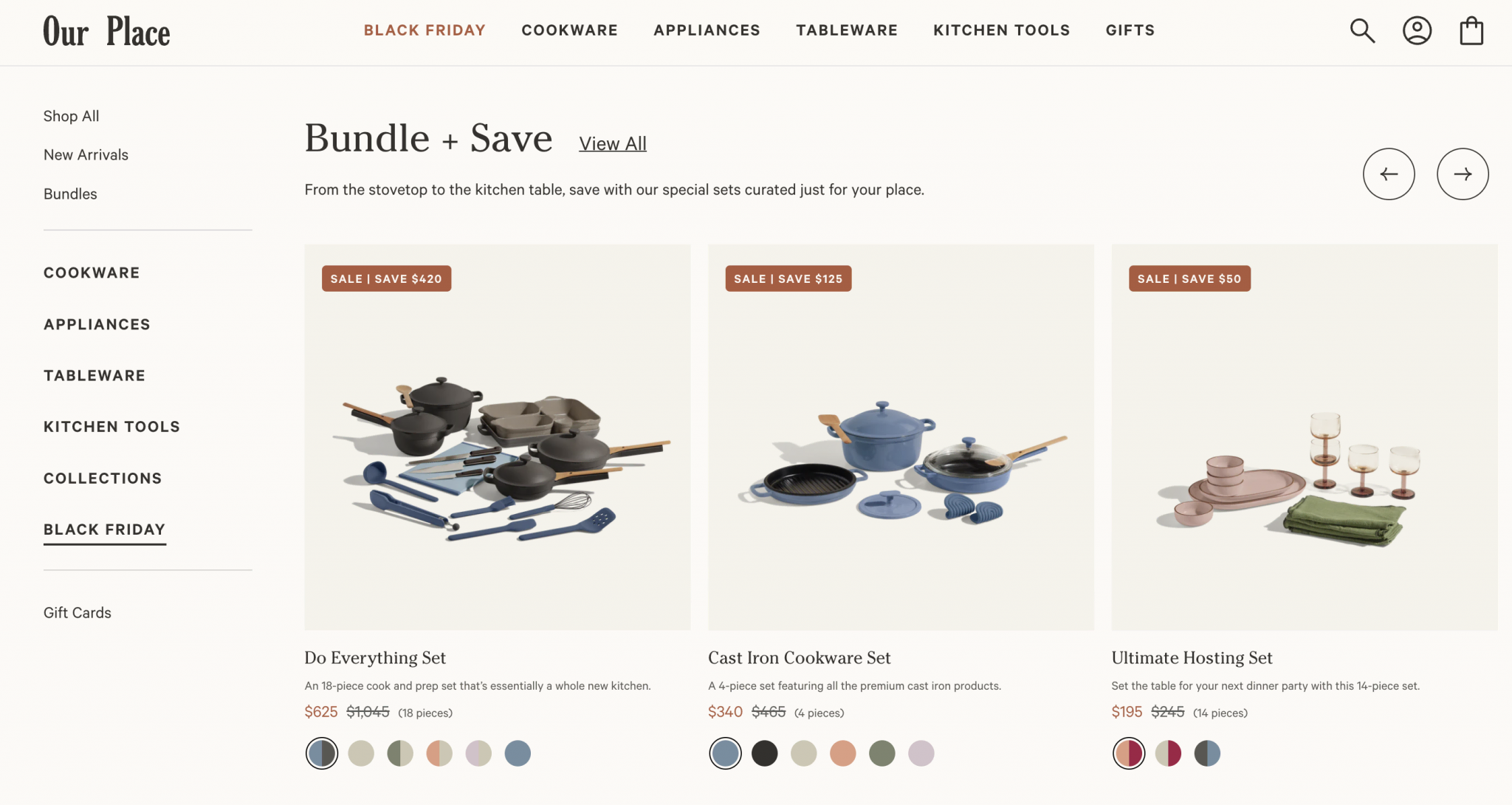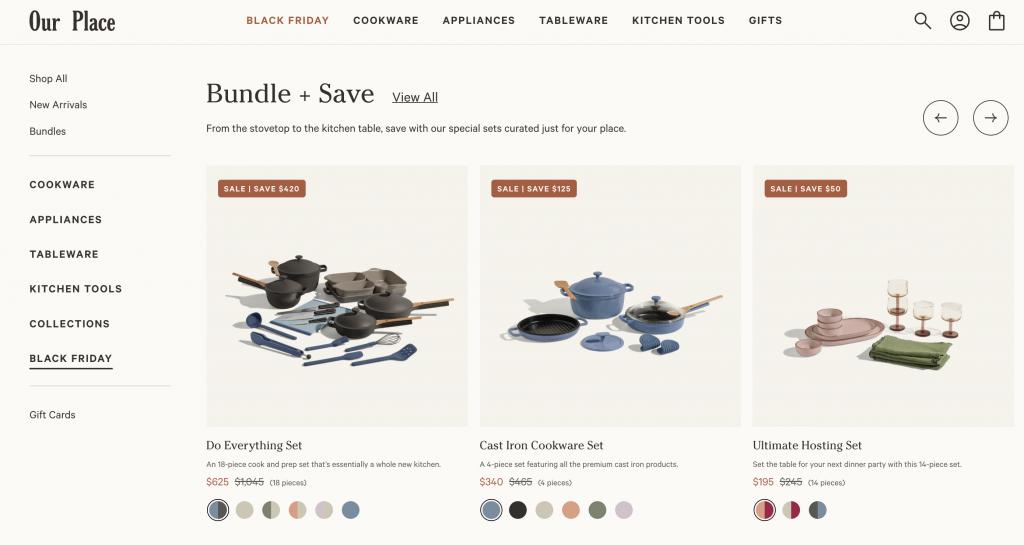 Bundling your products at a discounted rate does more than simply boost your Black Friday sales. It inspires customers, showing them how different items or stacks of services can complement each other or form a more complete experience.
This way, you're not just moving inventory but building a more engaged community and opening the door for future upsells.
3. Add Playful Sparks
Having a website with healthy traffic is good, but what really counts is customer engagement. One fun way to get your customers to engage more deeply with your site is to gamify the shopping experience. Adding game-like elements can make clicking through your CTAs and exploring your pages more entertaining.
Picture this: a visitor lands on your site, and a well-designed pop-up appears offering a spin on a lucky wheel for a sweet discount, or a choice among hidden boxes for a gift card. It's fun, it's engaging, and it makes your store memorable. See the example of a lucky wheel by sustainable jewelry brand Ana Luisa below.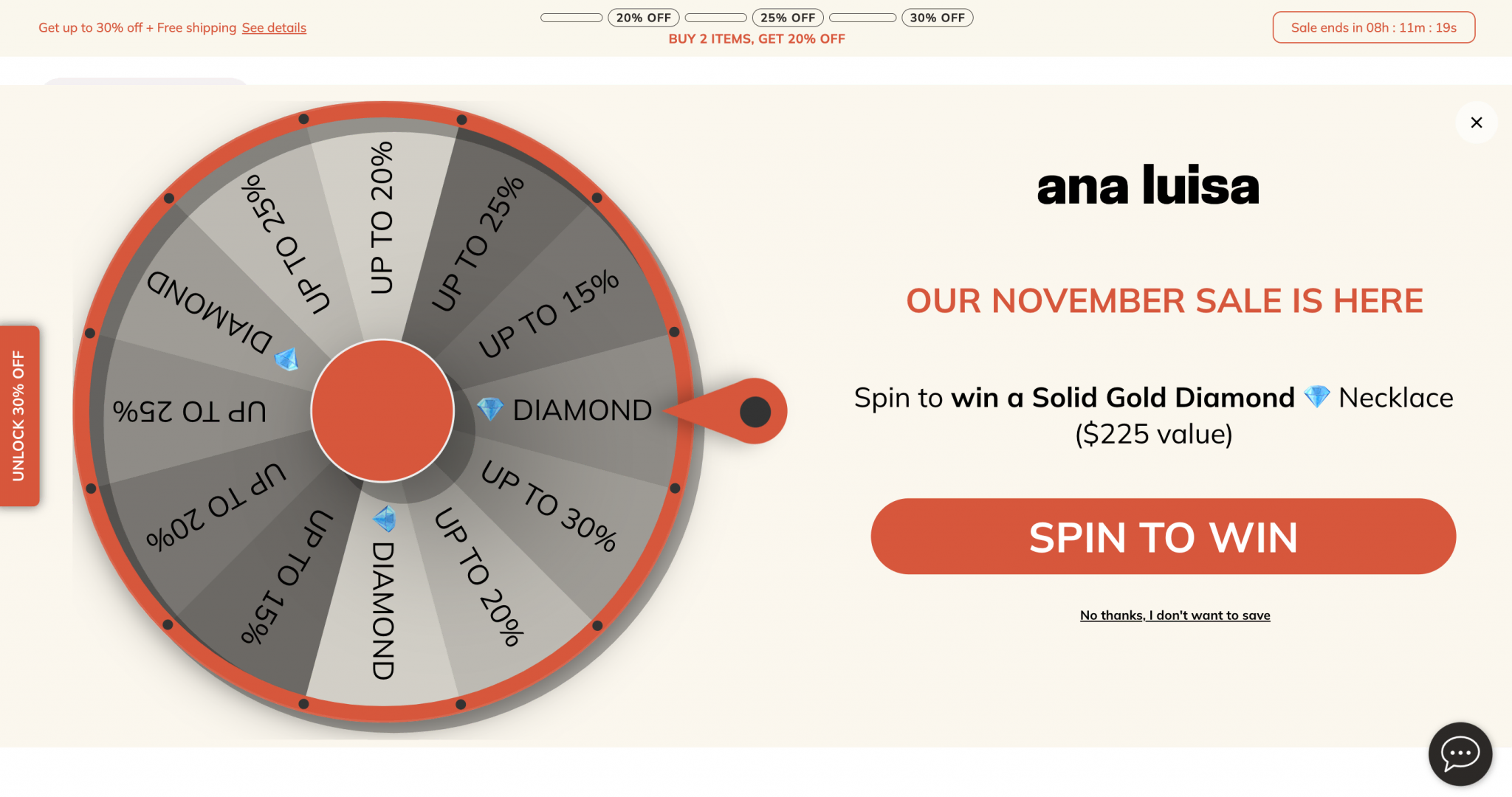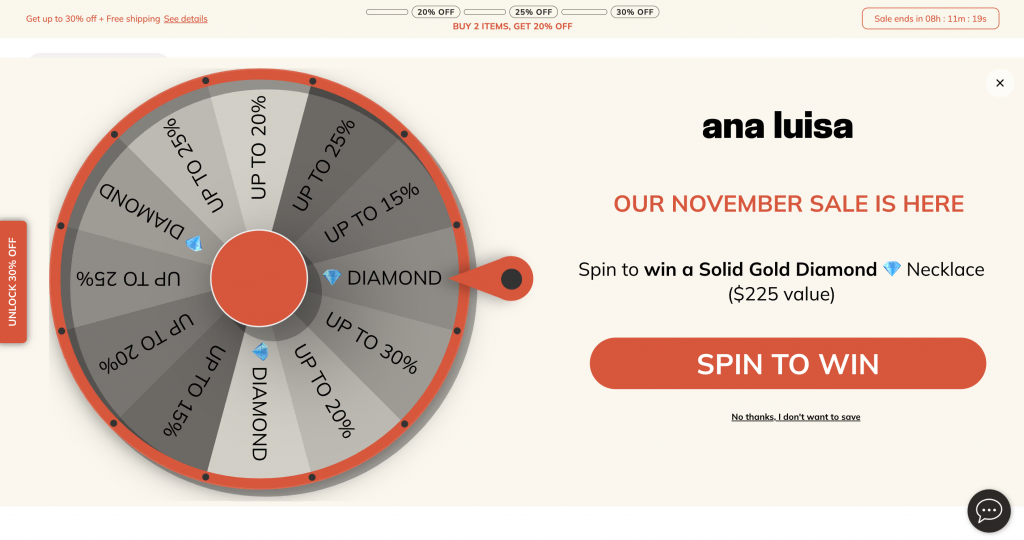 Just make sure the game-like element matches the vibe of your site. Jarring or out-of-place elements could make visitors skeptical, interpreting them as spam rather than an engaging experience.
In a crowded digital space, sometimes it's the small, fun interactions that keep people coming back.
4. Unlock the Power of Referral Rewards
Have you ever wondered how to turn your one-time shoppers into brand ambassadors? Referral discounts can be the key.
A referral program is a structured way to encourage existing customers to promote your business by referring to potential customers. Word-of-mouth promotion like this is a win-win solution – your existing customers feel valued, and new ones get a warm welcome with special deals.
To apply this method during the Black Friday season, you can offer current customers a higher-than-usual referral bonus and provide the new customers they bring in with exclusive deals. This is especially suitable if your business already has a referral program – this way, you can differentiate this special deal from the regular one.
Ensure that the info about your referral deal is effortlessly shareable across social media platforms and messaging apps that your customer base uses most. Make it simple and rewarding, then watch your community grow.
5. Offer Free Shipping
Here's a no-brainer: offer free shipping. Shipping fee is often considered a dealbreaker, so offering it for free will help reduce your cart abandonment rates.
Free shipping can be an investment that goes beyond immediate sales boosts. It's a long-term game plan that cultivates customer loyalty. This fosters a positive online shopping experience, encouraging repeat purchases and generating good word-of-mouth, which is invaluable in the crowded eCommerce landscape.
If you're new to offering free shipping and want to apply this strategy during this shopping season, try announcing a Free Shipping Day as part of your Black Friday week promotions. This single-day offer could drive a mid-week surge in sales, getting customers to act fast and complete their purchases before the big day.
If your business already offers free shipping on a daily basis, you can provide faster shipping just for this day. For example, the bedding brand Siena promises to deliver your order in one to three days for its Black Friday offer instead of the regular two to five-day period.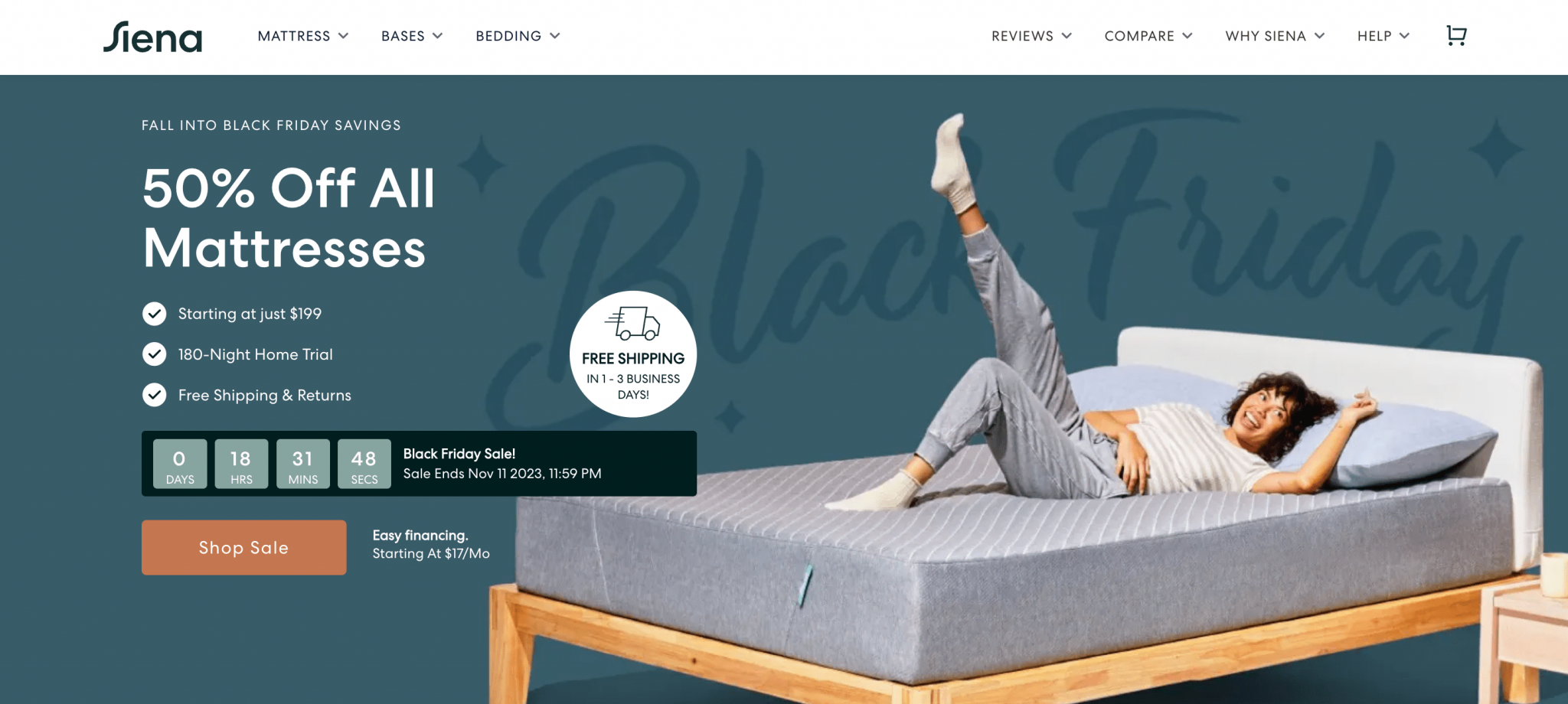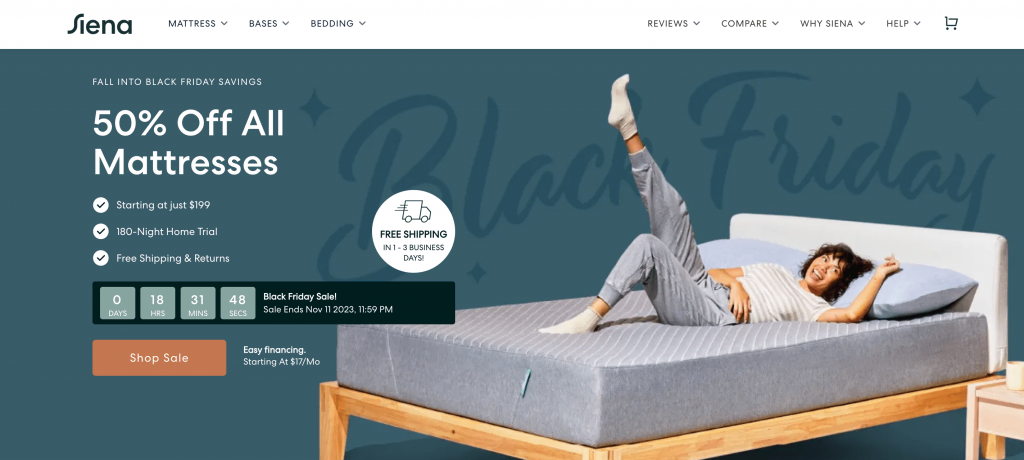 Remember that this type of deal shouldn't harm your profitability. Apply the best practices in offering free shipping, such as setting a minimum purchase requirement, limiting the free shipping offer to specific items, and adding shipping costs into the initial pricing.
6. Craft Non-Discount Incentives
Black Friday is synonymous with offering deals, gifts, and special offers. These are the go-to tactics to draw customers in. In a sea of discounts, stand out by providing unique value beyond typical online sales incentives.
Here are some Black Friday marketing ideas of non-discount incentives you can give your customers:
Branded Black Friday exclusive merchandise
Service tier upgrade
Free samples
Surprise gift with purchase (GWP)
Early access
Alternatively, integrating a charitable component where a portion of sales is donated to a worthy cause, like helping animals or fighting world hunger, can resonate deeply with customers.
7. Extend the Black Friday Period
Black Friday is always followed by Cyber Monday. While the Black Friday shopping frenzy can happen on offline and online stores, Cyber Monday is almost exclusively online. So, it's time for online businesses to benefit from this shopping event.
Keep the shopping momentum going by extending your offers for two days – the entire Black Friday weekend. This way, you're giving shoppers a second chance to grab the best Black Friday deals they intended to snatch up, enabling you to gain more conversions and laying the groundwork for Cyber Monday sales. It's like an encore at the end of an outstanding performance, leaving your audience delighted and longing for more.
Consider sending out an email the morning after Black Friday, letting customers know that the promotions are being extended as a gesture of gratitude for their enthusiastic participation.
However, be sure to imply that this extension isn't a regular occurrence, adding a touch of exclusivity to the offer.
The Week in Review
As an online business owner or a marketing professional, it's your time to shine. Explore our Black Friday and Cyber Monday web hosting deals to make sure your online store can handle the traffic surge.
Once done, prepare your website for Black Friday by infusing these seven strategies with your brand's unique touch to attract customers and keep their excitement at a fever pitch.
Additionally, spread your Black Friday offers across your socials and keep your audience excited about what's coming next. With the right moves, not just Black Friday but the entire shopping week can become a revenue-generating powerhouse for your business.
You've got this!